Unfortunately, not all have equal access to the benefits of good prenatal and postpartum care.  For many women in the DR Congo, this has created significant life challenges.  Many women are ostracized, abandoned, or left with emotional trauma due to a very preventable condition.  See our earlier stories that explain HEAL Africa's plan and reasons for this project in more detail
here
 and
here
.  Here's the story of one woman who, because of the medical care provided by our partner, has also received the benefits of an embracing community.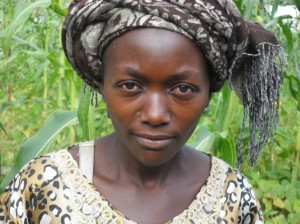 My name is Justine Mumbara, I have belonged to the maternal solidarity group of Bweremana for 4 years.   I have really benefited a lot from this group.  For example, when I had a cesarian operation recently, the members of our group helped me with food, and helped pay a good part of the maternity costs.  My roof was blown off by a hurricane, and the members of the group helped me with 20 sheets of roofing.  Now my husband and I have a tin roof. I must add that it was the members of our group who helped rebuild our house, putting up the mud/stick walls and other parts of the building. 
I could never leave my Safe Motherhood solidarity group.  Really, neither my husband nor I ever imagined that Safe Motherhood would help us to this extent.  We can only thank those who initiated Safe Motherhood and coordinate it from Goma, for in addition they have helped us get started with our rotating credit fund and have reinforced the work of our fields.  This is the second time I have had a rotating loan, I buy bananas, and make juice, and get a profit of $30 each time I sell the juice. My loan enables me to buy bananas each week and keep the "juice" going. This helps a lot in our household: we can pay school fees for our children, and we eat better and in my family we can even pay for clothes for our children.
The problem of healthcare exists all around the world. For many women, adequate healthcare is not an option.  Too often, this most significantly affects the women forgotten by society : those who are widowed, those who are divorced, those who are in the 'wrong' social class, those who are simply women.   By supporting the physical and social healing of the women affected by VVF, we remember the challenges that accompany the lives of so many women in the DR Congo.  In their communities, they have begun to take a place of prominence, all because of adequate healthcare and their own fight for solidarity and importance with one another.