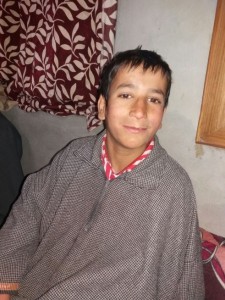 A* is 8 years old, and lives in Wahabpora, India.  His father is a daily wage laborer and was not able to pay for his son's education, so he discontinued his studies and spent his days with friends around his city.
A teacher with the Hindustani Covenant Church (HCC) made it a point to meet with A regularly and tried to convince him to come to their non-formal education center.  Initially he showed no interest, but one day he came to the center out of curiosity.  He saw some of his village friends also coming to the center, and he liked the way the material was taught. He continued coming to the center. 
He was very interested in his classes and was a good student. After almost five months of going to the center, he wanted to join a formal school again.  This was of course a great thing, but the challenge was to raise money for school fees.  HCC staff approached a local leader who had already supported few children of the village to get tuition for the school.  The local leader happily agreed to give financial support to A's formal education.
A is now regularly going to school, and is very happy about it. His mother also expresses her thankfulness for this amazing change that has taken place in her son's life