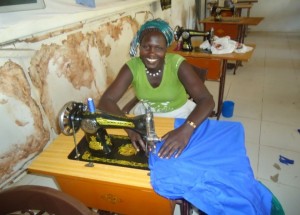 Nyakong Adwok Obach is a widow who has been training with the Hope for Widows project for tailoring and clothes design for six months. She is from the Shiluk tribe and was married to her Dinka husband in Baliet County. Her husband died during the Sudan Civil War and she was left to care for her four children. With no way to gain an income, there was concern about how she was going to take care of her children. The project in South Sudan has changed the life of her family and herself. One of her children is also sponsored by the Vulnerable and Orphaned Children project. The skills will help support her and her family and contribute to improving other people's lives.
She said, "As I am smiling while taking this photo, it shows my unfolded happiness to CWR and the Covenant Church which has re-shaped my life and my family. Though I will not forget the pain of my husband's death, the CWR and the Covenant Church have removed my worry."
You can sponsor another widow to receive training like Nyakong here.