I don't remember ever really "celebrating" Lent growing up.  I could very well be remembering it wrong, I am getting a little older and over-the-hill now.  Maybe we did something significant remember 40 days of something, but I don't specifically remember Lent.  However, for the last 20 years, attending Covenant Churches and being involved in the Lenten season, I have realized the beauty in remembrance.  Probably even more so during the pandemic when our family was very intentional about going deeper in Lent and helping our kids walk through it in light of the pandemic.  It is sacred.  It's a holy space.  Some years, mainly before the pandemic, Lent would sneak up on me and oftentimes I wouldn't be as prepared as I would have wanted.
But this year God has really been drawing me in to this season of Lent.  I welcome it.  Even during Advent I kept thinking how significant it was that Jesus was born to die.  How amazing and awful and beautiful and mysterious it all can be.  We can complicate it sometimes, but that is the reality.  He was born to die.
As we enter Ash Wednesday today and Lent begins, I welcome it.  I welcome the beauty and the mystery.  I feel God drawing all of us in, coming as we are, carrying burdens.  Life is heavy right now and we can all bear witness to that.  But in the beauty of the Ashes today, remembering that they represent mourning, grief and heaviness like many carry today.  But in the midst of all that we carry, we can empty ourselves of that and be filled with Jesus.  This is a beautiful time to do that.  Some may feel so heavy that prayer and even breath seems difficult.  But as this video below says, if you can breathe, you can pray.  So as we carry so much, I encourage us to remember we are not alone: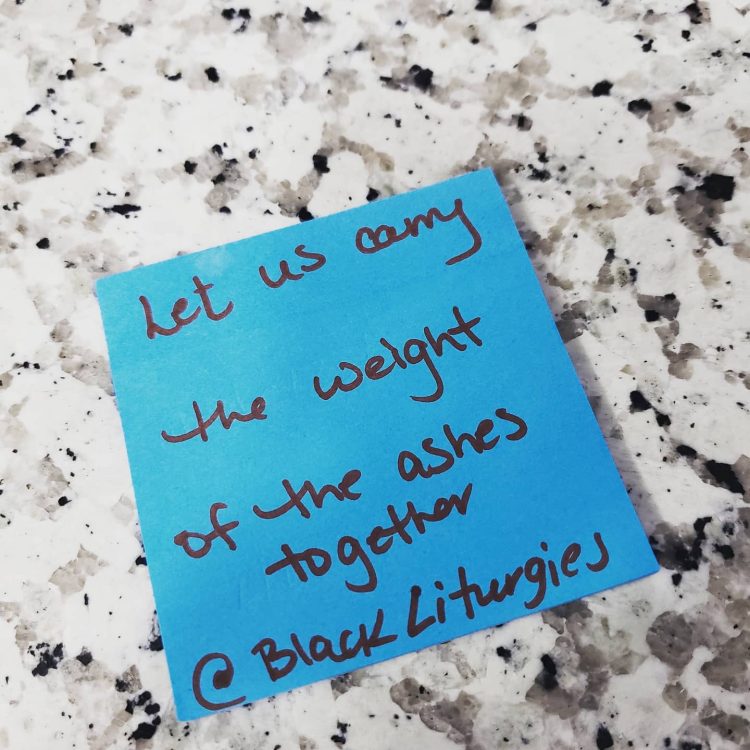 As we enter this season, I want to draw close and the way I do that is through journaling, prayer, music, reflection.  It can be different for everyone.  But my goal is to try to post something most days, a reflection, a song a prayer; a way to draw us closer when all we feel is weighted down.  So, today I open with a beautiful explanation of Ash Wednesday from Matt Maher, a worship leader, followed by a song.  Usually scripture that I have experienced and read during Ash Wednesday services are from Psalm 51:
Have mercy on me, O God,
    according to your unfailing love;
according to your great compassion
    blot out my transgressions.
2 Wash away all my iniquity
    and cleanse me from my sin.
3 For I know my transgressions,
    and my sin is always before me.
4 Against you, you only, have I sinned
    and done what is evil in your sight;
so you are right in your verdict
    and justified when you judge.
5 Surely I was sinful at birth,
    sinful from the time my mother conceived me.
6 Yet you desired faithfulness even in the womb;
    you taught me wisdom in that secret place.
7 Cleanse me with hyssop, and I will be clean;
    wash me, and I will be whiter than snow.
8 Let me hear joy and gladness;
    let the bones you have crushed rejoice.
9 Hide your face from my sins
    and blot out all my iniquity.
10 Create in me a pure heart, O God,
    and renew a steadfast spirit within me.
11 Do not cast me from your presence
    or take your Holy Spirit from me.
12 Restore to me the joy of your salvation
    and grant me a willing spirit, to sustain me.
13 Then I will teach transgressors your ways,
    so that sinners will turn back to you.
14 Deliver me from the guilt of bloodshed, O God,
    you who are God my Savior,
    and my tongue will sing of your righteousness.
15 Open my lips, Lord,
    and my mouth will declare your praise.
16 You do not delight in sacrifice, or I would bring it;
    you do not take pleasure in burnt offerings.
17 My sacrifice, O God, is[b] a broken spirit;
    a broken and contrite heart
    you, God, will not despise.
18 May it please you to prosper Zion,
    to build up the walls of Jerusalem.
19 Then you will delight in the sacrifices of the righteous,
    in burnt offerings offered whole;
    then bulls will be offered on your altar.
So draw close, lean in, be broken, be contrite and allow God to move in you.  We can carry the ashes together.