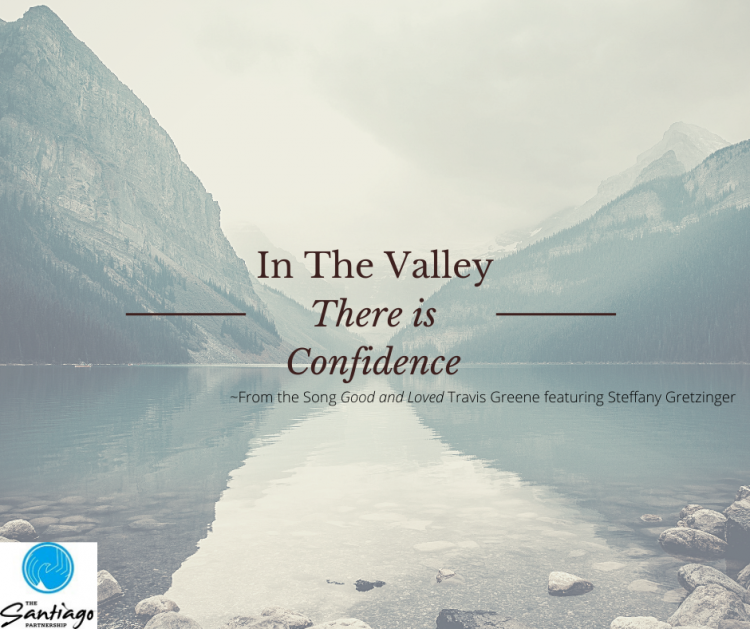 In the Valley, there is Confidence…
It seems like an oxymoron, right? Confidence when we are in the valley? What does that even mean? I don't know about you, but confidence is usually not what I am feeling when I am in the valley. I was recently listening to a song that had this phrase in it.
Through your story is My fingerprint
In the valley there is confidence
In the shadow, I will be your strength
One thing's for sure, I am your Lord
Yes, I am
I am, I am
Through the chaos, I will be your joy
When you're finished, I have so much more
In the waiting, I'm an open door
Stand still and know, I am your Lord
They'll be times when you're up
And times when you're down
I'm never too far
Just look around and you'll find Me
I'm by your side, arms open wide
I am good, you are loved
Oh, I am good, you are loved
Oh, yes, you are loved, you are loved
What was and is, is covered
By the One who was and is
You're covered by love
What was and is, is covered
By the One who was and is
You're covered by love
Through this whole song, as beautiful as it is, it still sticks out to me, this line, in the VALLEY, there is CONFIDENCE. Confidence meaning FIRM TRUST. Another definition I saw says, "a feeling of self-assurance arising from one's appreciation of one's own abilities or qualities." Now, I don't know about you, but when I am in the valley, there is nothing that says self-assurance, my own abilities or qualities. Usually it is the complete opposite of all of those things.
As I was writing this, I was reminded of the beautiful book of James. It is always so full of wisdom, but this passage always gets me saying:
Consider it pure joy, my brothers and sisters,[a] whenever you face trials of many kinds, 3 because you know that the testing of your faith produces perseverance. 4 Let perseverance finish its work so that you may be mature and complete, not lacking anything.
PURE JOY, REALLY?
Again, that seems crazy to me similar to feeling confident in the valley.
IN 2 Corinthians 12 it says:
But he said to me, "My grace is sufficient for you, for my power is made perfect in weakness." Therefore I will boast all the more gladly about my weaknesses, so that Christ's power may rest on me. 10 That is why, for Christ's sake, I delight in weaknesses, in insults, in hardships, in persecutions, in difficulties. For when I am weak, then I am strong.
Boasting in weakness, power made perfect in weakness? All of this. It is all so good, right? It is. And you may be wondering where I am going with this. Well, what do all of these have in common?
NONE OF THEM can be done on their own and ALL OF THEM shows us how insane need for Jesus. I'm sure that brings you joy right there, but there's more! The great thing is, we are better for it. We weren't meant to do this alone, we are meant to live in this mess WITH Jesus. Grace is sufficient, Maturity through trials. Not. Lacking. Anything. Why? Because we can't be confident, we can't boast about our weakness unless we know that our weakness is made strong through the saving power of Jesus in our lives. The sooner we can all live in to the fact that Jesus is with us and…AND NOTHING. Period. End of the sentence. Jesus is with us. In the valley. In our weakness. In our persecution. In injustice. When we realize we are weak, then we can get somewhere. When we feel we have to do it all ourselves, we soon realize, well, that we can't.
Friends. Breathe. Lean Back. Stop. Be still. You don't have to carry it all alone. You were never meant to carry it all alone. Why can we have confidence in the valley? Because we know that even in the valley, God is good, we are loved, we are seen, our burdens are carried, we are not alone. The same God that spoke the world in to being is RIGHT HERE WITH US. Take comfort and know that you are not alone. You are confident in your valley.