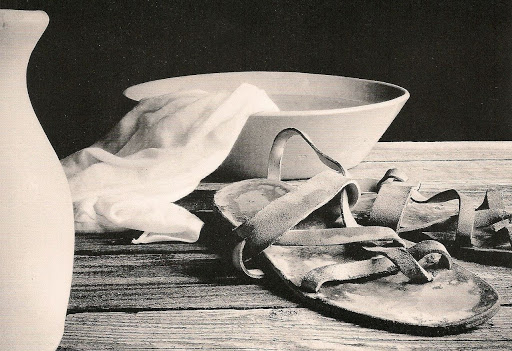 As we entered the Lenten season this year, we invited our whole family in to this to experience "Fat Tuesday" and Ash Wednesday.  It is really one of the first times we have done this WITH the kids.  We want them to learn about this season and what leads up to the cross and resurrection.  It has been a beautiful and sweet time so far, although slightly challenging (teaching the transfiguration to a 5 year old…well, you can use your imagination).
Lent is a time particularly appropriate for NEW BEGINNINGS in the faith or returning to the Lord.  We recall our own mortality (intentionally) and wait on the Lord for the renewing of the Spirit.  We put aside our sins and failures in the light of who we are YET to become by the grace of God.  All of this is for true and authentic faith and a true dying and rising WITH Christ to a new life in God (Adapted from the Covenant Book of Worship).
During this season (and let's be honest, during Advent as well), I have been reading a really great book called:  Get Out of Your Head by Jennie Allen.  First, I highly recommend this book, it has been an amazing wake-up call for my brain.  Because I don't have a whole lot of time to read, the thought of re-reading a chapter seems super crazy since I just want to capitalize the time I have.  But a specific chapter in the book was quite significant, enough to read twice and continue to go back to reference.  The main focus, humility.  GULP, right?  In a world that significantly inflates self, uhh hello Facebook, Insta, Twitter and basically social media.  We want to PRESENT the best version of ourselves to others, even when that self is a mess, and we all live in that mess no matter how much you feel you have it together.  There's no better example of humility than Jesus as Phillipians tells us,
5 In your relationships with one another, have the same mindset as Christ Jesus:
6 Who, being in very nature[a] God,
did not consider equality with God something to be used to his own advantage;
7 rather, he made himself nothing
by taking the very nature[b] of a servant,
being made in human likeness.
8 And being found in appearance as a man,
he humbled himself
by becoming obedient to death—
even death on a cross!
9 Therefore God exalted him to the highest place
and gave him the name that is above every name,
10 that at the name of Jesus every knee should bow,
in heaven and on earth and under the earth,
11 and every tongue acknowledge that Jesus Christ is Lord,
to the glory of God the Father.
WHEW!  NO PRESSURE!
It seems there is no greater time than Lent to make us painfully aware of our mortality, ashes, palms, Hosannas that we know quickly turn in to Crucify Him!  It can be overwhelming.  But the great thing about Jesus, the Cross, this season is that those significant things, can turn our brains upside down, but in a good way.  Just as Jesus is our example of humility, the Cross and the death of Jesus, turned our approach upside down.  Humility is counter-cultural, it isn't what the world preaches to us to "get ahead" or to be successful.  But our example isn't of this world.  Our example although a King, was also a servant and when we can learn to see ourselves less and see Him and OTHERS more than ourselves is when we can start being the better version of ourselves and living in to the person we have been called to be.
When we put God in His rightful place we can start living in to humility.
"We replace the lie of our greatness with the truth of who God is-and how needy we are apart from Him.  Humility becomes the only logical posture of our hearts"
Jennie Allen
May we all take steps in these next few days of Holy Week to live in the steps of Jesus, literally, and His journey to the cross-the most humble of all journeys, but oh what we can learn…