Some of you may be aware but some of you may not that Joel made a trip to the States from the 5th to the 14th of November.  He went to be with his dad, Earl, who was getting his hip replaced.  Joel went to be there for surgery (actually arriving before it) and for his three day stay in the hospital.  He was there until his dad was transferred from the hospital to a rehab center.  After his rehab is completed, Joel and his siblings made the decision with Earl to have him move into the assisted living section of the facility, which is called Hubbard Hill in Elkhart, IN.  Though this has been a difficult time for Earl, it was good that Joel was able to be able to travel to be with him and Earl does seem to be doing well since his surgery.  Here is a picture of Earl with Joel's sister, Shana, before his surgery.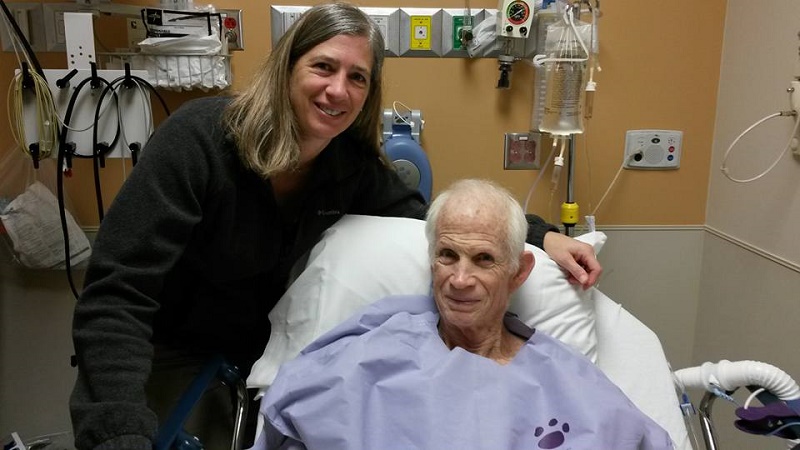 While Joel was in the States, we that stayed back were blessed by having grandma come.  When Joel decided to go the States, we had just about a week to plan what we would do and so we asked my mom if she might be able to come and stay for the time Joel was gone.  Praise the Lord it did.  We weren't sure when the next time might be that we would see family and it was such a great time together.  Mom was a huge help of course to me just trying to navigate life on a daily basis.  Laundry alone is a lot to keep up with as well as dishes!  We are SO thankful that we had this time together.  THANKS MOM for coming!  We miss you already!  It's kind of hard to explain sometimes how I feel when my mom leaves to go back to the States.  On a day to day basic, although I think about it, I try not to think about the fact that family and friends are so far away.  We push through, especially on those days we feel we can't do, the overwhelming days.  But when she has been here and has been such a help and has been with us day in and day out, I realize how much I need her and I realize on days like that that it is a sacrifice to live far away from family.  The goodbyes in the airport are hard.  It's probably good there is a flight so that there is a forced separation, otherwise we might just hug and make up reasons to give each other another hug.  I try to save the tears for the car, but rarely make it and then probably pass people wondering why the white lady is crying.
SO, here we are, back in the daily grind of life.  It was such a huge blessing to have mom here and we hope by now she has recovered from all the playing and laundry and dishes and games, etc that is our day to day here.  Miss you grandma!