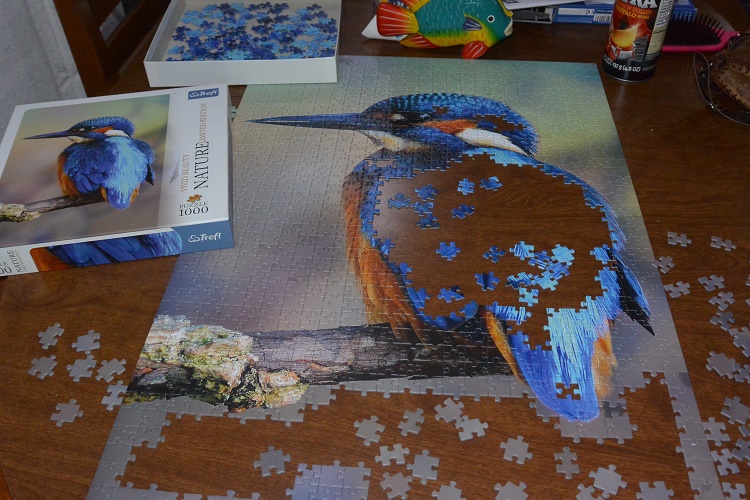 As the holiday season comes to a close, I wanted to reflect on a holiday tradition that I enjoy and provide a little insight as to why this tradition is special to me.  My (Joel's) family has always enjoyed fixing puzzles over the holidays.  My mom was the primary source of inspiration and elbow grease to put them together each year.  I am finishing the puzzle you see pictured here.  Though the bird is a Kingfisher, it kind of looks like a bluebird that my mom so loved as she took care of bluebirds in her back yard many of these recent years.  This puzzle was nice for me to be able to reflect on our times together fixing puzzles.  I wish we could still do that.
As I got to thinking about things working on this puzzle, I wondered why I enjoy fixing puzzles so much.  Maybe it is for the reason that I've already stated that it is an important family tradition and time of bonding and now a time in which I can remember the holidays spent together in the past.  This could very well be much of it.  However, maybe there is something more or at least maybe something else.
I got to thinking about things and my personality.  First of all for those who don't know me quite as well… I am your classic Type-A, work-a-holic, perfectionist.  Now, I'm working on that work-a-holic, perfectionist stuff but safe to say I am still a work in progress.  Anyway, let's say that I really enjoy accomplishing things and seeing things through to "perfection."  As I get old and grayer (instead of wiser), I am realizing that there is very little that you can actually accomplish fully and to perfection, especially in ministry.  It is the case for life in general but especially in ministry there is so much that needs to be resolved; situations that need to be fixed.  And it seems that a lot of those situations or problems may never be resolved during my lifetime and that's just the way it is.  That's why God's grace is so wonderful.  Things can be left imperfect in this imperfect world because He is perfect and his grace is sufficient.
So back to puzzle.  Maybe puzzles are my "puzzle therapy."  It helps me quench, in such a little way, my desire to see something completed, put together, fixed.  It's not much but I can make a "perfect" puzzle that makes me feel good that I accomplished something.  I know this is just feeding my personality and my needs in how I am but is that such a bad thing when it is just a puzzle and a hobby nonetheless.  Maybe I should be prescribing "puzzle therapy" to others.