We will start transitioning this blog from being just an "updates and pictures website" to also be a blog.  We know that updates and pictures are what a lot of you will be coming here for but we also want to be able to provide an opportunity for learning along with us.  We have a long road of learning and ministry ahead of us, which we are excited about, and we want to provide the opportunity for those who are interested to learn along with us.
On that note, I just wanted to share a word from the Word in my devotions this morning.  In reading from Luke 1, we see how Mary is called by God to be a servant of His use.  This message, of course, comes via the angel Gabriel.  
The announcement in Nazareth shows that Mary came from humble, agrarian roots. Galilee was not a respected region. It was hardly the expected locale for one sent from God. Gabriel, the same angel who spoke to Zechariah, brings the divine message.  Mary reflects the person whom God unexpectedly chooses to use. She brings no outstanding credentials to the task and lives on the edge of the nation. She brings nothing on her résumé other than her availability and willingness to serve. But those characteristics are the most basic ones anyone can offer God. So he puts her to use in his plan, taking her through a process for which she has had no training or preparation. He simply promises to be with her in the journey, and she responds by being willing to go on the ride. The angel, faithful in his task, wants Mary to know just how favored she is. With God's grace behind her, Mary knows that she can do what God asks. The text's description of her as a virgin reveals that she had grown up with a sense of personal responsibility and integrity.
The humble setting of Jesus' birth not only reveals the nature of God's plan, it also reveals the character of God's heart. God loves those who are humble in spirit. Even his Son, as the King of Israel, the Promised One of all time, is born of a humble, country maiden. This example of God's unpretentiousness is an attitude that we as his children should possess. We might expect great things from God and anticipate that he will work through the great in society. But God shows his greatness by working with anyone on the street who is willing to be used by him.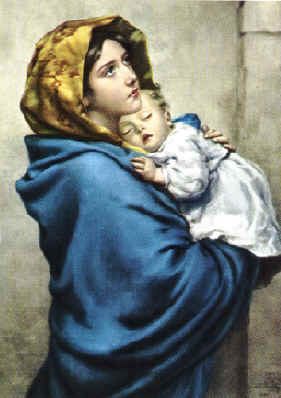 This text and understanding of the text speaks volumes to me (Joel) this morning.  In the process of my call, I definitely did not have an angel Gabriel type moment, but surely had God has spoken to me and my wife about our lives.  What's interesting to me is my response to my call compared to that of Mary.  My response was "let's do it God! but first, let's go to school for 8 years!!!"  Now, I do feel strongly that God brought us to Chicago for schooling and to bring us into the Covenant and to Northwest Covenant Church.  But I am amazed at Mary simple and perfect response, "
I am the Lord's servant," Mary answered. "May it be to me as you have said."
How often do we not feel qualified to serve?  How often does inadequacy and insecurity step in?  Mary had no reason to feel adequate to her task at hand.  But she embraced it.  She responded simply and perfectly with her servant like heart, which is why God chose her. 
Do you feel God calling you to be used by Him?  I think you do or your not listening or asking.  God is always speaking to us and calling to us to respond to Him.  Don't let your feelings of inadequacy step in the way.  Let your response be as simple and beautiful as Mary's.
Bock, Darrell L. "Original Meaning" In NIV Application Commentary, New Testament: Luke. By Darrell L. Bock, 57. Grand Rapids: Zondervan, © 1996.