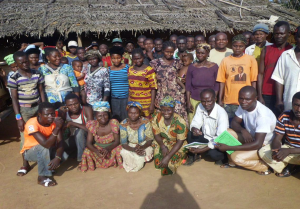 Lack of food security is a serious issue in many parts of the world, and the Central African Republic is one such place. CAR has been labeled by the U.N. as one of the 10 least developed countries in the world. Through CWR's partnership with FRB (Foods Resource Bank) and CEFA (the Center for Experimentation and Training in Agriculture), located in Gamboula, CAR, individuals and families are being empowered to experiment with innovative approaches to farming that provide stability in farming and the raising of animals.
Click here
to learn more about the project.
We recently received an update from Roy Danforth, a Covenant missionary who works with CEFA:
Ten more villages have joined the project, meaning the 25 villages in Gamboula are participating in the project!

The original 15 villages did very well with their crops last year, so much so that they are interested in expanding their crops beyond just fruit trees.

The new chicken house just received its first set of chickens. These are large, local chickens that have the ability to produce up to 15 chicks at a time.

There is hope that a new animal husbandry program will begin this year. This co-op program will be headed up by the local Fulani people. The hope is that the local people will not only teach others how to care for animals, but that they will also share with them the love of Christ that they have experienced. Pray that CEFA can secure a veterinary missionary to make this program possible.
We are thrilled that things are going so well with the project and that those involved have been so successful that they are looking for ways to try out even more agricultural techniques! You can support this project by giving here.