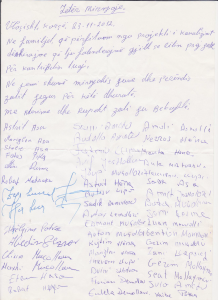 Our
community health project in Albania
was finished at the end of last year. The goal of this project was to build a community sewer system that would allow the community members to have access to better health. Those who were involved in the project have been able to see great changes in their lives not only physically, but also spiritually, as some of them have been open to hearing the gospel!
Below is the translation of a thank you letter we received from the participants of the sewer project. It was signed by more than 50 beneficiaries! Click the photo to the right to see a larger image.
All the families who benefited from the sewer project want to thank each one of you very much for your contribution in that project. We are very grateful to God, the Lord Jesus and to you for this donation. 
With great respect and honor to you all. God Bless you.
We were so grateful to see this tangible demonstration of one way God is moving in the world!