Covenant World Relief (CWR) partners with a ministry in Albania called Medical Ambassadors Foundation (MAF). MAF has been implementing Community Health Evangelism (CHE) in the Balkan region since about 1999—seeking practical and spiritual transformation for communities. The purpose of CHE is to promote good health by encouraging local community development projects and empowering a team of leaders who can serve the needs of their communities. MAF is doing this in Albania primarily by building a new sewer system. Their goal is to equip local leaders from within the area and the church to pursue healthier communities.
Their most recent update revealed this exciting news:
"There were teams and churches from six different cities in Albania for our annual evaluation meeting. We were very encouraged by how the Lord is working through Community Health Evangelism (CHE) in these places. It is such a blessing to have CHE in ten villages in different places in Albania and thousands of people's lives touched by this Ministry of the Lord.
[In March, two doctors] launched training for 75 family doctors in the cities of Fier and Kavaja. Alongside professional issues we did the spiritual topic on "The Definition of Good Health", which explains that good health is harmony with God, Self, Others and Nature. Another great Ministry from the Lord is the invitation from the "God's Church" in Tirana to share CHE concepts with their Bible School students."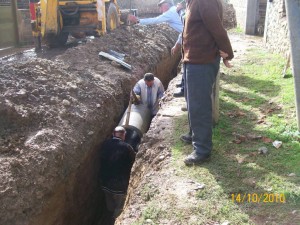 MAF tells us of some encouraging ways the community is coming together in fellowship through a football match and a Women's Day celebration. They are also making steps forward with a sewer project. MAF says, "Preparations for the Sewer Project in one part of Vloҫisht have been made and the local representatives of these 80 families are meeting and discussing the details of the project. They have started the committee training."
For more information on this project, click here.