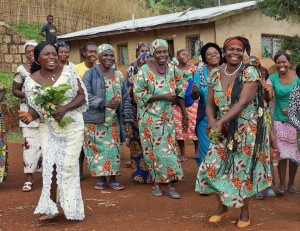 The Hope for All community organization in Belo, Cameroon, has been empowering women in small groups through chicken-raising in a CWR-funded project called Pass on the Gift. Two of the newly hatched chicks must be passed on to other women as they start new small groups.
The Hope for All leaders decided to expand the program to include goats and sheep. However, they soon discovered that in one area of Belo it is considered a cultural taboo for women to raise goats and sheep. Pastor Daniel, the leader of Hope for All, met with the husbands of two women who had expressed a desire to raise sheep and goats. Those husbands eventually gave their permission and with a small beginning the taboo is now gradually being overcome.
At present there is a cluster of women who are raising goats and sheep and will be passing on the firstborn to other women.