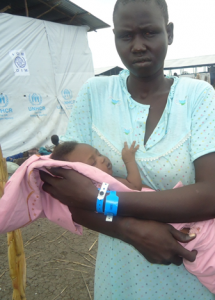 Partnering with the Evangelical Covenant Church of South Sudan, Covenant World Relief is
bringing relief to hundreds
, if not thousands of children who have become orphaned due to the violence in South Sudan. It is the mission of CWR to bring aid and relief to the most vulnerable and in this case that means the orphaned children of South Sudan, many of whom are infected with HIV or other diseases and suffering because of the lack of infrastructure. Providing necessities such as medicine, food, and shelter is only a part of the work. The
Vulnerable Orphaned Children project
also aims to provide an education for these refugee and internally displaced children. Paying for their education means so much more, because it gives them a message of hope.
Providing the basic necessities is important but paying for them to go to school says: "you have a future, you can be something, we are invested in who you are going to be."
This message of hope affirms these children and shows the true love of the Gospel. This love not only reaches out to present physical needs but also speaks to emotional needs. The gospel is about bringing true hope, not just survival, to all people.