The focus of Medical Team International (MTI) in Haiti is sustainability and training staff to provide healthcare that brings dignity to all people. It is more than just an outpatient service. They seek to engage in holistic healing. Here are 3 stories from MTI, a CWR partner in Haiti:
Rosemann's Story: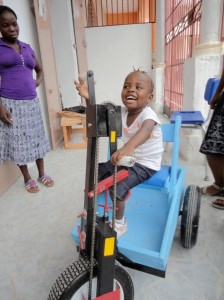 When first seen in the MTI-Advantage Program clinic, Rosemann was five years. She was born with limb deficiency (loss of part of her right leg. Her mother is very engaged with her and determined for her to live as normal a life as possible. Her mother has carried her everywhere, even back/forth to kindergarten.
Rosemann is a lively young girl who sees herself without limitation; only that she cannot walk without an artificial limb. The first day we saw her, we gave her crutches. She just took off walking with the crutches and was so happy. She saw the PET cart (hand propelled cart) in our clinic and knew that she could use it for mobility. Our carpenter arranged one for her which she uses at home and in her neighborhood.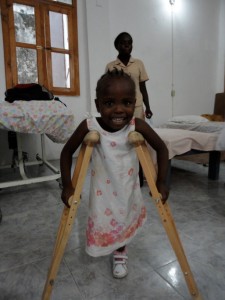 The MTI-AP made an artificial limb for her that allows her to walk without additional assistance. She now walks and runs with her friends, causing her mother more difficulty in keeping up with her! She is growing so fast and is so active, she is now in her 3rd prosthesis. We hope that we will be able to accommodate her limb deficiency in a prosthesis, but she may need surgery in the future.
Rosemann thanks all who help to make such life-changing interventions possible. She is excited about "walking to school" for the first time in her life!
Julian's Story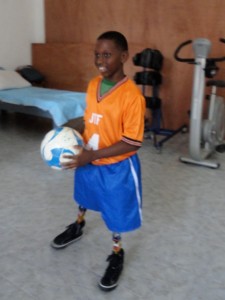 Julian is a eight year old young man from Camp Perrin, HAITI (45 minutes from the MTI-Advantage Program clinic in Les Cayes, HAITI). During the January 12, 2010 earthquake that shook Port-au-Prince, the home collapsed on him, crushing both of his legs. He was rescued by family and neighbors and received care in a local field hospital where both of his leg were amputated to save his life. A Canadian film crew came to know him and sponsored him to go Canada where he received custom prostheses. He was sent back to Haiti. However, 2 months later, his knee joint failed and the Canadian group that sponsored him was long gone from Haiti. Julian came for care in the MTI-Advantage Program clinic where we were able to order a replacement knee joint. He is now 11 years old and very active. Adjustments have been made to the prostheses he now has, but he needs new ones. The MTI-Advantage Program would love to be able to make the prostheses for this young man for many years to come.
Jeudi Joseff's Story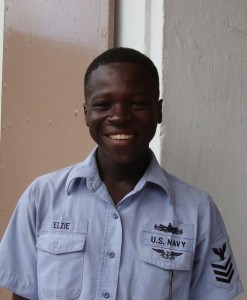 At age 11, Jeudi lost his leg in a motorcycle accident. He is now age 14. He walked with crutches only prior to receiving his first custom artificial limb from the MTI-Advantage Program. He now walks back and forth to school, rides a bicycle for transportation and plays soccer on the Jordan Thomas Foundation supported Amputee soccer team. He is so active, he has broken 2 prosthetic feet and required 2 socket changes. It is the hope of the MTI-Advantage Program that we will be able to make the custom prostheses he will need in the future. He hopes to finish secondary school and go to university to become an engineer.