Covenant World Relief partners with the Haiti Christian Development Project in Fond-des-Blancs, Haiti. Together, we are partnering on Kids Helping Kids: Haiti and the Haiti Agriculture project. This blog post is written by Cheri Lane, a Covenant Church youth leader in Decorah, IA and an HCDF board meember.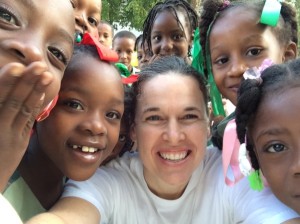 When a hot, nutritious meal is not served at L'Exode schools in Fond-des-Blancs, it means that a child may not eat for that day. The importance of providing clean water and healthy food for the school children at L'Exode has been emphasized since Haitian native, Jean Thomas and his wife Joy began their holistic ministry in the area 30 years ago. Based upon the principles taught by Jean's mentor, John Perkins, reconciliation in Christ, relocation to the community being served, and redistributing resources to those in need, have been the foundational values upon which the community development has been focused.
When L'Exode (named after the Biblical Exodus account) first began, Jean and Joy had to go from home to home in Fond-des-Blancs to encourage parents to begin their children's education at a Kindergarten age since it was not a common practice in the area. Now, over 100 pre-school age children show up on the one day of registration each year and children can continue their education at L'Exode schools from age 3 through 12th grade. The meals served for lunch will soon be sourced from the local farming coop produce just a few miles from the school, thanks in part to the Covenant World Relief funding which has provided the test plots for the project to grow into a potential 250-acre area within the next few years. The produce will not only help feed the 1,500 students in the L'Exode schools, but also empower the local farmers through shared use of large machinery, agronomy training, and use of an irrigation system.
The healthy faces with big smiles that we saw in these photos taken the last week of March 2014 are a testament to the good Christian Community Development work that has been taking place in Fond-des-Blancs in the name of Christ.