Our partner,
Haiti Christian Development Fund
(HCDF), have given us a glimpse into a community that has been devastated by abject poverty. Because of partners like you and HCDF, this community is working toward a brighter future.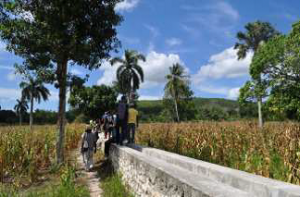 Lhomond is an economically stagnant community. It is a community of subsistence farm families living in abject poverty. It is supposed to be an agricultural community but the volume of annual food production per year is far below the level necessary to feed the local population. There are no other income-generating activities, except perhaps the small trading that the women engage in, micro-retailing imported basic products from the capital city, but the profit margins are extremely low. Seeing that there is no future there, the young people flee to the capital city to join the ranks of the unemployed looking for better opportunities. The families that are left must face a stream of problems that flow from their lack of income: poor nutrition, very limited access to health care, clean drinking water, quality education, and other social services.
The community is blessed with a major natural resource that few communities still enjoy in Haiti: a river that flows year around. Along the banks of this river there are several hundred acres of flat land that could be irrigated, but for at least two centuries the river has been flowing directly to the sea unused, while the poor farmers keep relying on an increasingly unreliable and short rainy season that is often insufficient to produce a crop.
With the irrigation system now in place, it will bring employment, appropriate technology resources, and food for a number of schools for their meal programs. The irrigation system is an integral part of the project and has been overseen by a number of different organizations, including the government, to secure the use of the system. The greatest outcome of this project is the definite proof that a large scale agricultural program is possible and that they resources are there and not currently being used. There is a great deal of potential for growth in the coming years. The net profits of the farming enterprise in Lhomond will be used mainly to fund a school lunch program for "L'Exode", the K-12 school started by HCDF in 1989 and that now provides a quality education to more than 600 children of Fond-des-Blancs. [and the beneficiaries of the Kids Helping Kids: Haiti project]