With more people becoming worried about the environment, experts have started expounding upon the virtues of sustainable farming, saying that certain practices are better in the long term even though they might bring less profit immediately, and these practices should be implemented by farmers.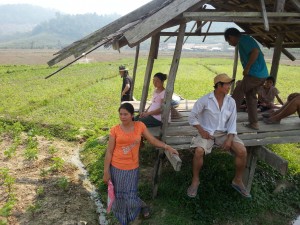 This kind of information isn't new to many development organizations, who have long realized that sustainable farming is one of the best ways to help a rural village develop. One great example of this type of project is in South East Asia, where CWR is partnering with a farming project dedicated to improving the lives of rural villagers.
This farm project is designed to bring basic development to rural villagers by offering a multi-faceted approach of sustainable farming practices. The project will give the villagers the tools and skills to plant and sustain a mulberry and soybean farm to sell as a cash crop. Then the villagers will learn cottage industry skills like how to sustain a silk farm and make tea from the mulberry trees. Finally, the villagers will learn handicrafts to further diversify their cash intake. These developmental changes won't happen all at once but will happen slowly over time so that villagers can adjust to and benefit from the changes.
In order to be more sustainable, the farming techniques that this program organizes are organic and long lasting. The leaders are working to prevent the business practice of allowing long term ecological damage in order to create short term monetary benefits.  In addition, the villagers will come together and create a co-op. This kind of cooperation among the villagers will provide the members with benefits like a seed bank and will give the villagers collective bargaining so as to give them the best prices for their goods.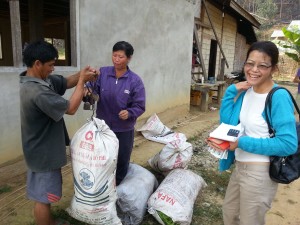 A plan such as this needs cooperation from all sides in order to be successful, and this project has benefited from lots of cooperation: from the government who has allowed the land to be used for sustainable farming, from international businesses, who buy the villagers' crops, and from the villagers themselves who have taken the initiative with their farming practices. This kind of cooperation has helped make the project so successful.
CWR's partner has been working on sustainable farming for years and has a developed this strategy which has been very successful in South East Asia. CWR is proud to partner with a group that is so dedicated to the long term development of entire communities.