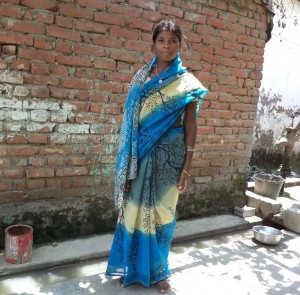 Poonam is only 22 years old, but she is a widow. Her husband died 3 years ago due to certain sickness. Her pain doubled when her in-laws began to blame Poonam for her husband's death. This forced Poonam to return back to her parents' house along with her 1 year old son.
Poonam's parents are very poor. Therefore, she did not want to be a burden upon her parents. She started collecting rags as a mean to support parents' income. During this period, one of our CSS (Covenant Social Services) staff came to know about Poonam's situation and encouraged her to join the Sewing Training Class run by CSS in Bihar. She joined the class with full interest.
By now, Poonam has already completed one year of her learning. She also is using her newly gained skills and the sewing machines available at the center to stitch old clothes. She is getting orders for stitching from surrounding neighborhoods. This effort is bringing in an additional 50 rupees a day toward her family income.
Poonam hopes to increase her business when she has completed the course and can put more effort into raising her income. She is very thankful to everyone who supported her during the difficult times while she has journeyed through hardship to self-sufficiency.