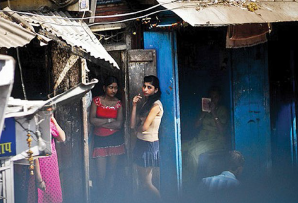 Gangubai Shinde comes from a middle-class family. When she was fifteen, her parents forced her to marry a man twice her age. Her husband accused her of being unfaithful, and he began beating her. Although Gangubai realized that she was not safe living with her husband, she stayed with him for two years. During that time he tortured her and frequently tried to burn her. She became pregnant, but as a result of the abuse, she miscarried in the third month of pregnancy.
One day her husband took her to the city, where, unbeknownst to her, he met with a brothel owner and sold Gangubai to be a prostitute. Then he told her he had some work in a nearby place and he would come back to her after finishing the work. That night, a woman told Gangubai, "Your husband is busy with some other work in the city. So he has asked me to take you to my home and he has given some money to pay for your stay at this hotel." Gangubai trusted her and left the hotel. After staying with her for two days Gangubai realized that things were not right. She asked the woman about her husband's return. The brothel owner told her, "Your husband has sold you for 10,000 rupees [less than $200] in the market to turn you into a prostitute." Gangubai broke down in tears and collapsed. The next morning when she awoke she found herself in bed with a strange person. This was like a terrible nightmare. One of the women there explained that she had to stay and had to give half of the money she earned to the brothel owner. Six months later, Gangubai had done business equaling more than the 10,000 rupees for which she had been purchased, but she was still unable to escape. Even if she tried to flee, she had no hope left for her life. So she stayed and continued as a prostitute.
Gangubai worked for almost fifteen years as a prostitute. During this time, she gave birth to a daughter and a son from a regular customer. Gangubai cared deeply about her children, so she made even more time for business so that she could support them. She put her son in a Christian school. When her son was in the fifth grade she learned that he had a cardiac problem. She shared this problem with the school's headmistress. Through the school she came in contact with Hindustani Covenant Church (HCC). HCC helped Gangubai pay for the boy's treatment, but after three years, he died. He was eight years old. Gangubai felt like nothing was left in life. During her depression, HCC staff helped her and prayed for her. Mina, one of the HCC staff, counseled Gangubai about leaving the sex business. Gangubai had lots of question in the beginning but she slowly came to trust Mina. After some time, when she decided to leave the sex business, HCC helped her to deal with her problems.
The project started by the Evangelical Covenant Church and HCC for the rehabilitation of commercial sex workers was a great beginning for Gangubai. HCC offered her a job. She talks to needy girls and takes them out from the sex market.
As of today, Gangubai has helped rescue at least ten girls from the red-light district. Former customers still approach Gangubai. Now she explains that she is working for the church to help other girls. At first they would laugh at her, but she didn't let it bother her; instead, she continued her new job honestly.
Today Gangubai lives outside of the red-light district with her daughter, Renuka, and continues working with HCC. She is always thankful to HCC and God, because she now knows God's plan for her life.