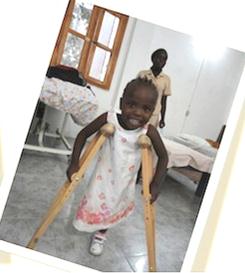 Rosemann, now 5 years old, was born with hemimelia (absence of part of her lower leg), a condition requiring prosthesis intervention with or without amputation. Fortunately, her mother is very engaged with her and determined for her to live as normal a life as possible. Her mother has carried her everywhere, even back/forth to kindergarten.

Rosemann is a lively young girl who sees herself without limitation. The first day of treatment in the Medical Teams International (MTI)-Advantage Program Clinic, she was given crutches and she just took off! She received a PET cart (hand propelled cart), modified for her by the carpenter, that she uses at home and in her neighborhood. The staff prosthetist made an artificial limb for her that allows her to walk independently to anywhere she wants. The MTI-Advantage Program is helping with her education, prosthesis provision, and engagement in her community. Rosemann thanks all who help to make such life-changing interventions possible. She is excited about 'walking to school' for the first time in her life!
Thanks to our partner, Medical Teams International, for sharing this story!