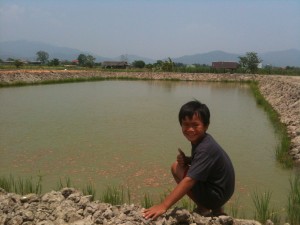 Every three months, community members in Northern Thailand harvest red tilapia fish. These fish are then divided into three size categories and supplied to fish farmers. The largest fish are sold to cage fish farmers, mostly located on the Ping River. Eventually, these fish will be ready to be sold and eaten as a great source of protein. Some fish from the Thai farms are donated either to community ponds where poorer families have access to fish, or to orphanages to supplement the children's diet.
Building a new fish nursery in Northern Thailand brings many benefits to the local community. Four Thai universities send students to this fish farm to complete internships. The nursery brings new jobs to the two main communities where the fish are harvested. And the fish produced are sent to hundreds of fish farmers in Northern Thailand to help continue their own businesses. Cultivating fish in Northern Thailand is a great sustainable agricultural process because farmers do not need land for their produce; farmers need only to suspend cages in the nearby rivers to grow their fish.
Sale of the nursery fish also provides funding for the new Bright Future Children's programs.
In May,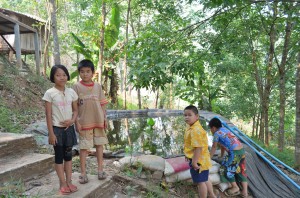 thirty children signed up for Bright Future Children's programs which reach under-served populations through music, sports, and language activities. These children come from five villages and represent three different ethnic groups (northern Thai, Lisu and Akha groups). The programs focus on building up children's self-esteem and teaching them skills to enrich their daily lives. The hope of these programs is to provide children with the foundational tools that will help them grow into responsible, caring adults.
To read more about the fish farm development and Bright Future Children's programs, or to make a donation, click here.