Below is the story of a woman whose life was radically transformed when she was provided with the opportunity by CWR's partner HCC to escape a life of prostitution.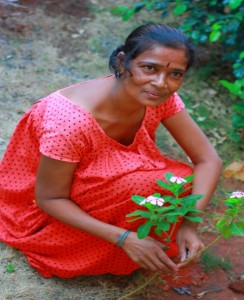 My name is Sunita Vijay Naik. I am 35 years old and am from Ahammad Nagar, Maharashtra. My mother died when I was a child. I have 2 brothers but unfortunately my father and younger brother died within one month of the other. Unwillingly I got married to a dumb man at the age of 11. After 2 days of staying with my husband I came back to my parents' house. My father-in–law called a meeting of Panchayat (village court) and they decided that I should not go back to my in-law's house anymore since I had violated village laws. Then I stayed in my parent's house, but many people started commenting and saying many things about me. Again my parent's arranged a boy for me, so I was married again. His name was Laxmikant. That marriage is called Motur (sending off the daughter with just a saree). However, there was no physical relation with my second husband. But after few months one day my brother–in-law called me and forcefully raped me, then I became pregnant. When my husband came to know that I am pregnant, he got angry. Because of shame I ran away from house and came to Pune. I asked a woman to give me a job doing household chores, but instead she sold me to a brothel.
In Pune I gave birth to a baby boy in Sasoon hospital, but the child died. Then I became frustrated and depressed. I could not go back to my husband nor to my parents' house. So at last I decided to stay at Pune in Budhwarpet. I lived as a commercial sex worker for 20 years.
On July 17, HCC conducted a small business programme in Budhwarpet. One of HCC took notice of my problems and allowed me to tell her everything. She assured me that HCC could help me to come out from bondage. On July 24, a Commercial Sex Worker Rehabilitation meeting was conducted by three HCC staff, and I requested their help so that I could leave the sex trade business. On August 4, 2010, the HCC staff helped me move from Budhwarpet to Sukhsagarnagar, where I began selling tea to earn a living. They also helped me move into the Home of Hope and Love, where I help make bread for Holy Communion. It is such a blessing for me that I came in contact with HCC.
I hope and pray that other commercial sex workers are able to leave the business like I did, with help from HCC.
To learn more about our partnership with the Hindustani Covenant Church, click here.