The hymn, "This is My Father's World," speaks of the beauty of creation and the wisdom of the Creator. Not only does this hymn remind us of God's constant and gracious care, but its words point to simple truths about how we live and interact with one another in God's world:
This is my Father's world…God is the Creator, Sustainer, and Redeemer of this world.  He created all peoples and gifted us this world in which we live.
O let me ne'er forget…It is easy to feel entitled to the things we own in this world—but truthfully we are stewards of this earth and everything we have is God's.
though the wrong seems often so strong…Despite the good creation of God, the world has been corrupted by sin and we are plagued by human suffering and injustice.
God is the ruler yet! We have the promise of redemption of the whole world through Jesus Christ. It is our privilege to partner with God in bringing his hope to the world.
One of the ways we see the Church working with God in mission is through Covenant World Relief.  We can be conduits of blessing to those whose needs are greater than our own by giving back from what we have been given.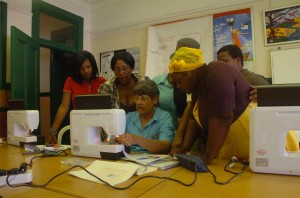 These women (pictured left) are working with our partner, Zimele, and are setting an example of true Christian stewardship.  These women start community businesses through a savings and loans program which is structured to help grow the resources of the entire community.  At the end of each month, members must pay back their loans with 10% interest to ensure that the (savings) fund continues to grow.
Not only are these women being responsible with the resources God has blessed them with, but also they are investing back into the community by donating a portion of their incomes to local social service projects such as Home Based Care and Orphaned Care programs.
The Zimele women challenge me to be a better steward of the resources God has entrusted to me. I sing "O let me ne'er forget" and remember these women today.
---