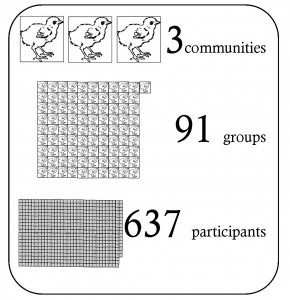 In Cameroon, Covenant missionary Sharon Davis has coordinated chicken brooding farms in three communities. Small prayer groups work together to raise and fatten chicks that are given to them by these brooding farms. Each group is trained in poultry farming, marketing, and business in order to help the groups to be self-sufficient. When the chickens are ready, they sell them and use the profits to meet needs that they see within their communities.
In the last year, 91 groups participated in raising the chickens.  Within these 91 groups, there are 637 individual people who participated, but this experience has reached so many more lives! Entire communities are experiencing the love of God through the impact of this project.  The money earned from selling the chickens has been used for building projects, paying school fees, and paying medical bills for those who need it most.
One powerful impact from this project is the spiritual nourishment in the communities. Through this program a church has been built, a number of Christian formation programs have been incorporated, and people have heard the Gospel through Biblical storytelling. In one village, the new Christian education program for children has been so impactful that the children rush out of their houses in excitement to hear the Bible stories–sometimes they even run out of the house without eating breakfast so that they will not be late. Praise God for the joy that has been found in these communities for God's word!