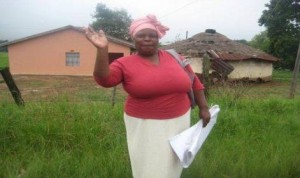 Mrs. Octavie Gwala is 55 years old. She tells of a very challenging upbringing, because her family did not have the means to send her to school. So she quickly stopped dreaming of a better future – and of becoming a teacher – and focused on her survival.
But since she joined Zimele, Mrs. Gwala has become a community developer in her own way and has formed 10 Self Help Groups (SHGs) with a total of 100+ members. She is training and mentoring these groups. Her life has completely changed from being just an ordinary community woman to a busy woman with a training schedule. The Zimele program has given her the opportunity to become the teacher she always dreamed of becoming when she was a child. Every day she walks long distances to train her fellow community members on self-reliance.
It is amazing how Zimele continues to build, revive, strengthen the abilities of less privileged women in the rural areas of South Africa, so that they can re-live their dreams, dream new dreams, and provide for their families and communities so that children can have a better future. Thanks for your support!