Stories are the creative conversion of life itself into a more powerful, clearer, more meaningful experience. They are the currency of human contact. — Robert McKee
We all have a story to tell.  Our experiences have shaped who we are and who we want to become.  Our connections to others further mold our understanding of the world we live in.  But all too often, some stories are ignored and cast aside while others are elevated and given much attention.  Having a story to tell when there is no one around to hear it can be an incredibly frustrating experience.  Having a story to tell and having no one willing to listen is almost dehumanizing. When your voice is not heard, it is difficult to have the space to change your community.  Often, we miss a reflection of the face of God in our neighbor because there is no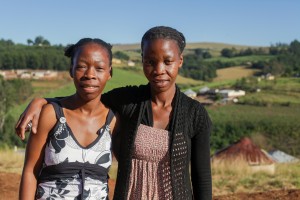 place for our neighbor to tell her story.  For many women in the Zimele program, their powerful stories are left unheard and unrecognized as part of our history.  Thankfully, our partners in South Africa have chosen to walk alongside and give the skills and resources in order for the women to have the space to share their stories and begin to change their community. This long-term change comes about through teaching and empowerment, not doing for.  Being connected to one another has given many of the women of the Zimele program the position to amplify their desires for change in the community and the space to make those changes happen.  In this way, these women own the progress seen in their community.  As they experience life together, the women have created several unique business opportunities that experience more success than anyone imagined!  In a recent update, the managers of the program said this:
We have stories of women who are being transformed and transforming the lives of the ones around them. As more and more women are generating income and bringing more resources to their community, they are thinking bigger and more broadly. We have seen the growth of macro-scale projects that impact the lives of the people in the Zimele community as well as the ones that are living alongside them. As more women come together in unison and gaining ground in their region, they are now a bigger voice in the local leadership body and no longer ignored. They have a voice and they are heard.
Being connected to one another helps them to recognize the potential they have as women despite the current understandings of what women are capable of.  Together, in the strength of sharing their stories, they can do more than any of them can do alone.
[vimeo id="53616215″]
In this video, MaZuma, a participant of the Zimele self-help groups shares her story and the challenges she faced under Apartheid and the blessing she has been to the women in her community.  She recognizes the glory of God in the faces of her sisters and living out God's plan for her life.
Consider giving to the South Africa Zimele project here.