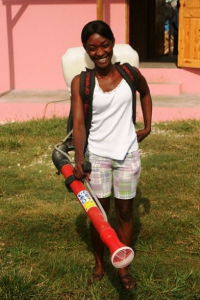 In partnership with Habitat for Humanity, CWR's
agricultural training project in Haiti
is doing well!
The fifteen beneficiaries of this project are meeting three times each week for agricultural training with three different agronomists, experts in soil management and field-crop production. During these training times, the students learn through hand-on experiences:
components of compost (and practiced making it for the field)
preparing the land before seeding
how to do seedlings in trays
overview of the drip irrigation system
maintenance of the canal, which provides faster water flow to the reservoir
the importance of fertilizer and pesticides
how to use the sprayer
plant disease prevention and sanitation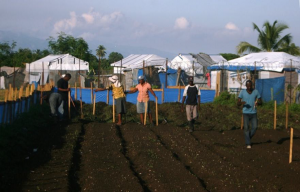 Unfortunately, there was a slight delay in the project due to three drip irrigation systems being held at Haitian customs. However, the delay was quickly resolved through purchasing the kits in the Dominican Republic.
Because of these comprehensive training sessions, the beneficiaries should be ready to plant the first seedlings in the field over the next month! This will eventually provide them with income and healthy food for their families. As we enter into the holiday season where we often spend much time around the table with out families, consider giving to CWR's agriculture fund.