Our
peace-making project in Mexico
serves many different people, including women and children, young and old, educated and uneducated, with English classes, computer classes, a women's group, and a youth group. Below are a number of testimonies about how participation has impacted the lives of those who attend the Foundation.
From participants in the English classes:
"My name is Sergio and I am Imelda's father. I want to thank especially the English teachers, because thanks to you and the Foundation, these classes now are available for our children.  This will be very important later when they want to study in high school or even college. Thank you, because otherwise it is very difficult for us because school is very expensive and is not available to us. So thank you very much".
-Sergio, father of a student 
"First, I want to thank the teacher, because when it comes to my daughter Cesia, she has been developing in English. I want to thank the teacher, I love the way they teach the classes , I love how the teacher relates to the students, very kind and respectful.  I tell parents that are not bringing their children to the classes, "Bring them!!!"  Really, it is worth it. They teach very well. For me personally I love it. My daughter is having very good experiences. Truly, truly, I recommend it from my heart. Thank you very much"
-Nina, mother of a student
"Hi, my name is Pablo. There are many reasons why today I want to share with you of my English Classes at "FUNDEFAM" (Family Development Foundation). It was February 2012, and my birthday was getting closer, and I have the hope that next year (2013) we would be able to speak at least 80% English, because I needed to know English in order to enter High School. I started at home, studying on my own. Although I had results, I felt that I needed school support, but I could not find a place with affordable prices. Most of the places I had to pay too much money for only six months of study. A month passed, and I heard through the youth group of the foundation about the English course with such cheap price. So I did not hesitate and I signed up immediately!!!!
At first I was hesitant to go because I was always very shy, and as for me, going to a classroom where we had speak only English was terrifying for me, but I realized that I was not be afraid, because the environment of the class was very relaxing. Soon I began feeling comfortable with English, and so began my love for studying languages.  One thing I noticed that I have an innate ability for understanding language. So when I reflected on what I had hated the English for years, maybe it was simply because I never had been motivated to study.
I continued studying also at home, playing music, reading, listening, playing, talking in English, even when sometimes I did not understand everything. I started to increase my language learning around 3-10 words per day. I read song lyrics, even if I did not understand, but I practiced my pronunciation and listening. I spent long hours every day practicing the language.
After seven months of study I can say that my English is much better than I had ever imagined. I can listen and understand conversations between 60 to 90% of what people are talking and reading between 85-100%. Miraculous, yet I have only 5 months more to fulfill my dream and I know I will do it, with the support of my teacher (Javier) and my colleagues and friends (Abigail Erick, Diana, and Karina).
Well, thanks for reading my story, I hope to serve you and encourage you that if you want to achieve something, you can do it, especially if you have people to supporting you as with me."
-Pablo Vallejo (14 years old), Student of English Club and member of the Youth Group
From a participant in the Women's Club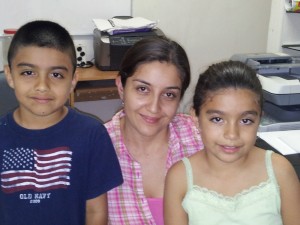 "Hello, my name is Juany Sierra. My experience in Family Foundation began when some friend told me about the English Club. I wanted my two children to learn a second language, and I felt very encouraged with the cheap cost, because of my small budget I could not pay an English school.
But at FUNDEFAM not only did they give us the opportunity for English classes for our children, but also while all of us moms were waiting for our children they show interest in us, and offered us Therapy Dancing. After that we started with the Conflict Resolution Course.
Now I'm involved in all the programs: Bible Study, Cooking, and the STEP workshop, and I'm also attending the Computation Classes. My children also are involved in all the programs.
All the programs at the Foundation are really good and a blessing for our families. I want to give thanks to you all because for these opportunities and to our great Community!!! "
-Juany Sierra, participant in the Women's Club
From participants in the Cyber-Cafe: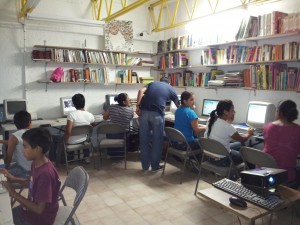 "I have learned to communicate with family and friends thru email."
-Obdulia, 32 years old
"This class is very helpful – now I can help my children with their homework"
-Martha, 41 years old
"I have learned so much, and it has been helpful because now I know how to use a computer and I have more tools to have a better job. I'm very encouraged to continue practicing."
-Martha S., 32 years old
"I am happy! I'm learning many things I did not know."
-Teresa, 45 years old
"The classes are really helpful because we can be aware of what our children are watching on the net. I'm grateful for Isai (the teacher). He is patient with us."
-Juany S. 28 years old
"This is something new for me, but exciting! Before I did not even know how to turn on a computer!"
-Josefina, 50 years old