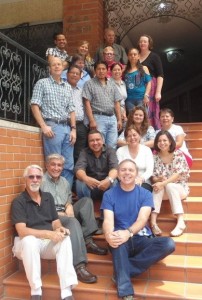 Dave and I (Chrissy) are just returning from a wonderful week of meetings in Colombia with some of our amazing Latin American and Caribbean partners. A few of our ECC missionaries have written about the time together. Instead of adding our own words, here are some excerpts from them.
Dave Mark, regional coordinator for Latin America and the Caribbean says:
As you know, Covenant World Mission and Covenant World Relief work hand in glove. Over the past few years, CWR's involvement with ministries of compassion and community development in Latin America and the Caribbean has grown. (You can see details about it on their website and on their facebook page.) In a number of situations, CWR partnerships in the region have been suggested or encouraged by World Mission folk. We are grateful for what CWR does with us.
A while back, CWR Director David Husby had a dream.
"What if," he wondered, "we could get the best of our Latin American and Caribbean partners together to talk about their ministry practices and share the ups and downs of their journey together?" It was a great idea and it took place October 1-6 in Medellin. So, people representing outreach foundations and ministries from Ecuador, Colombia and Mexico gathered. (Sadly, the folks from Haiti were not allowed visas to Colombia and were unable to attend. We really did miss them as they have much to offer. It was, of course, very helpful to count on the participation of Tammi Biggs – our World Mission representative in the Caribbean.) Following is a kind of "snapshot" of who these folks are and what they do. It was very interesting to hear the different ways in which they are organized, country by country, as well as the focus of their particular ministries.
What I can't do as well as I would like is to share how profoundly inspiring these people are and the amazing quality and effectiveness of their work. They are incredibly hard workers. In many cases, when finances have suffered setbacks, these folks have worked sacrificially without pay and under challenging circumstances. They do what they do out of love for God and love for the people God loves. We have evaluated a lot of ministries over the years, and these are among the best we have ever seen. To Read More of Dave Mark's thoughts, please subscribe to their newsletter here.
From Gary Sander, missionary in Colombia: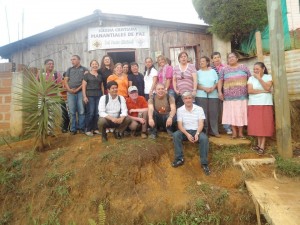 It was an amazing week of seeing and hearing the amazing quality and effectiveness of the work going on in many various communities with a variety of challenges, opportunities and needs—agricultural development, cooperative neighborhood banks, micro-enterprise consulting, conflict resolution, biblical response to violence, sex-trafficking, and prostitution, community health programs, outreach to victims of forced displacement or economic displacement, education programs, human rights advocacy, and the list goes on. They do what they do out of love for God and love for the people God loves.
So, everyone came to the end of the week profoundly inspired and looking to the future. But through what lens were we going to look through together? Gary figured that some type of an organization would be formed within which communication, encouragement, consultation and information could continue to be shared. It was decided to form an organization called "Holistic Ministries of the Latino Covenant". The symbol of the logo will be something related to corn, (since corn came from Mexico and is a staple of the societies and countries involved), and will be indicative of the seed planting, fruit bearing, empowerment effecting, God glorifying, community transforming ministries that it represents. Read more on their blog here.
And, lastly, from Tammi Biggs, missionary in the Caribbean:
It was such an honor to be a part of the Latin American/Caribbean Covenant World Relief Retreat this past week! Representatives from Ecuador, Mexico, Colombia, the US and Caribbean all came together to learn from one another and share about the ministries receiving assistance from Covenant World Relief. I had the privilege of being surrounded with some of our leading experts in areas of community development. It was a great time of networking, learning from one another and expanding our vision of what God is doing through our ministry connections. I also got to meet some of the greatest people…and to reconnect with good friends!
Check out more photos of our time together and more information on our partner ministries in Latin America and the Caribbean!
*The funds used to pay for this gathering were not from general CWR donations. The costs for this gathering were from a special reserve fund of CWR offerings.