Perhaps the role of a servant is to build someone else up to greatness ahead of oneself. In giving up our own notions of superiority, we can truly hear what it is our community needs in order to function best.   The simple act of affirming another's worth by listening, teaching, or even challenging can be an act of service to one's community.  I remember as a freshman in college how I learned what it meant to be valued when my roommate and I made time to pray for each other every evening.  The act was simple, but the effect has been so long lasting.  If by sacrificially loving another, we can help move them toward wholeness, then this is what a servant should be.
It's not just loving another though that makes someone a servant.  Of course this is a large part of love.  But the very act of love requires that it is done in relationship with someone else.  In other words, we have to be together in community in order to truly serve one another in love.  As Jesus taught the disciples in Mark 10 about how their path to greatness could be forged, he challenged them to go against the norms of the societal path to greatness.  In order to achieve any kind of power, the disciples were instructed to become slaves to one another.
In Mexico, our partners at the Family Development Foundation (FDF) challenge the status-quo of power gained through violence in their community.  They believe that everyone deserves an education and to be heard, and that this is often best accomplished if done together.  Families seek peace in their homes together after learning about conflict resolution while mothers and children serve other members of their community together.  In these times of togetherness, there is more power present than if they were to live life according to the norm.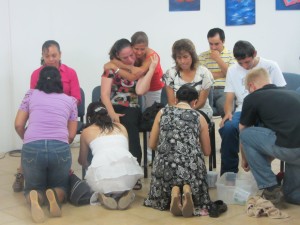 This togetherness is something treasured among the community at FDF. When describing their recent leadership training, the director of FDF told of how they were all reminded of the humility needed to serve one another in love.  After sharing in a foot washing ceremony and passing words of affirmation with one another, those in attendance knew the presence of God was among them.  How else could a city of so much violence offer a place of such peace and love?  In this moment, they felt like family. The togetherness they experienced at this leadership training is evidence of the service they have done with each other.
Written by Kaci Norman, CWR intern