While education is something that we often taken for granted in the United States, an unfortunate reality for many children living in the urban slums of Bangkok is that they may not have the necessary means to complete their education. Many are unable to make it past middle-school levels because the cost is too high, and often they must drop out of school in order to help support their families.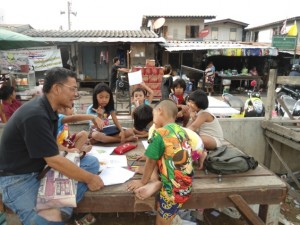 Through CWR's partnership with Thailand Faith and Music Foundation (TFMF),a ministry of the Thailand Covenant Church, we are facilitating a project that allows young people from three slums in Bangkok to participate in a recycling program; the profits from selling the recycled materials are then saved to pay for their education. Through this project, the children's and teen's earnings are matched so that they may save up even more to pay for school, books, supplies, and uniforms. Even more, participants learn the value of caring for the earth and loving the gift of creation that God has given. By recycling, the kids feel a sense of ownership over their communities. According to a report from the Thailand FMF, "The desired outcome would be that people in the communities would feel empowered to make a difference in their own lives and in the lives of those in the slums, and to see that they can make a difference in caring for the environment by making use of something that others throw away to be an investment in their education."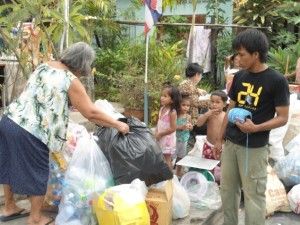 Originally, the project had planned to limit the number of participants; however, TFMF quickly realized that the need was great, so they allowed more people to participate. The location also expanded beyond just young participants; it now also one person with HIV and four elderly people, all of whom are in great need of money to purchase necessary medicines.
It is such a blessing to see a project that takes a unique approach to funding education. We are also thrilled to see our partner opening its doors and being flexible enough to allow others to join the group, even if it means changing plans and expanding.
To help support a child's education through this project, click here.