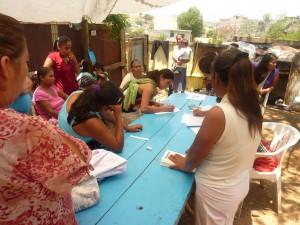 Fuentes Libres is one of our partners in Mexico. This project is located in Oaxaca, the second poorest state in Mexico. Fuentes Libres provides women with affordable micro-loans; these women would otherwise be unable to receive funding from or make payments to other local banks. For more information on this project,
click here
.
Below is the story of Nereyda, a participant in one of Fuentes' community savings and loans groups:
My name is Nereyda Vicente Martinez, from the community Olimpo, a poor community close to the dump. I started with Fuentes Libres on the second cycle. I invested the money in my own small business selling Avon and Fuller products by catalog. Especially when we have good sales, I invest more and get more profits.  Also my mother and mother-in-law help me sell the products and they earned a small percentage. With this type of project I am able to spend time with my kids and family.

In regards to the Bible studies, I liked them because they have helped me; I was inpatient and had a bad temper. Now I feel different and I am patient, especially with my kids. I pray to God every day to help me to be a wise woman.
Please continue to pray for these women as they work toward financial independence.