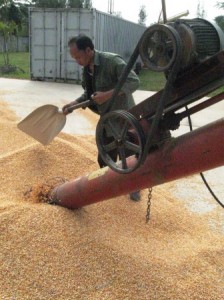 If asked what I had to eat yesterday, I could easily list off what I ate for my three meals, plus numerous snacks throughout the day. Food security is never something I have had to worry about; even when I don't know what I will eat for my next meal, I do know that I can make a quick trip to the grocery store, or even go out for a meal. Quick access to food is something I easily take for granted. Although I usually say a quick prayer of thanks before eating, do I really mean it when I say "Thank you, God, for this food"?
Beneficiaries of one of our projects in Thailand, on the other hand, truly know what it means to be thankful for a nutritious meal. Peter and Ruthie Dutton, regional coordinators for Asia for Covenant World Mission, also oversee Mekong Valley Foods Co (MVF), a food mill producing nutritious lunches for Lao school children and Burmese refugees in Thailand.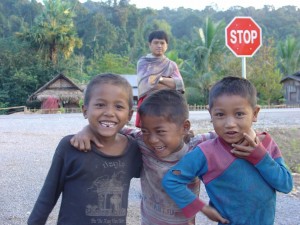 According to the last report we received from MVF, about 50% of the children in some northern and southern provinces of Laos are chronically malnourished. When children receive at least one healthy meal per day, though, this statistic decreases significantly. Even more, it has been shown that attendance in schools increases at a dramatic rate when children are fed a healthy meal that they likely would not have had otherwise. This is even more likely for young girls, who are more often that boys pulled from school to do farm labor and other work.
School children and refugees are not the only ones benefitting from this project. Farmers are able to sell their crops at a good price to MVF, while more than twenty men and women are also employed by the food company and have steady incomes.
Below are short stories of individuals whose lives have been changed by the work of the Thailand Mekong Valley Foods Co:
"This is a story of one of our staff members who worked for us for two and a half years: Because of his work in our company he was able to send his son to a boarding school in Chiang Mai where the quality of education was much better than what is available in his village. He was also able to buy a pick-up truck which has helped in their agricultural work."
"Another one of our staff members, after a number of weeks participating in our morning devotional times, asked us to pray for his mother who was ill. We did so and she recovered. He expresses a strong interest in Christ but has not yet believed."
"Another young man whom we hired as a mechanic had previously found work overseas on ships traveling to the Middle East. After working for us he decided to return to school to continue his education, something he was able to do from having saved money from his days working with us."
Praise God that through the Mekong Valley Foods Co, not only are people being fed, but lives and entire communities are being changed. Thank you, God, for this food!
While this is an ongoing project, the portion of the project supported by CWR has just been completed. Please continue praying for the Thailand Mekong Valley Foods Co.