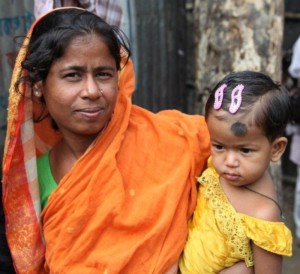 Consider giving your mother a very meaningful gift this year for Mother's Day. Covenant World Relief has many projects around the world that work alongside marginalized women, widows, and mothers. Perhaps a gift to Covenant World Relief in honor of your mother to the
women's empowerment fund
or to one of the following projects would make a very special gift:
Kenya Women
In a rural area of Western Kenya, women are marginalized and have been adversely affected by drought and conflict. The women of this community are beautiful and strong; faithful and nurturing. They have diverse capabilities and amazing potential, which remains unexplored due to a myriad of challenging social, economic, cultural, and environmental circumstances. This project will build the capacity of these women through access to resources such as income, credit, markets, agricultural inputs and training, as well as the social support they need to break free from the chains of poverty and vulnerability to drought and conflict. Their capacity is built so that they can in turn build the capacity of their family and community.
Click here to give to the Kenya Women's Agricultural Development project.
South Africa Women
In partnership with Zimele, the lives of 700 women in South Africa are being changed. Zimele's mission is to empower women living in abject poverty with the skills, resources, and support networks to start their own businesses and social service projects to sustain themselves and strengthen their communities.
Three phases of community development are designed to bring holistic transformation in the lives of the women and their communities. In the first phase, women work in small groups to build their life, business, and management skills to successfully operate their own businesses. In the second phase, women pool their resources and work together to address critical community needs by starting larger scale business projects, such as community agriculture and craft marketplaces, and social service projects that serve marginalized populations, such as orphaned children and HIV/AIDS victims. In the third phase, women create a conglomerate to advocate for social, economic, and healthcare reforms in their communities such as equal rights for women and greater access to clinical care. Through this proven community development program model, Zimele is creating long-term, sustainable solutions to poverty that can be replicated and scaled in communities throughout South Africa.
Click here to give to the South Africa Women's Empowerment project.
Colombia Women
Hands with Hope is a project in collaboration with the women's ministry of the Colombian Covenant Church that will provide vocational training to a small group of women. These women are internally displaced, abused, working in bars and/or are single mothers. This project will not only empower the women with new job skills, but will also teach them about human rights, including collaborating with the Evangelical Covenant Church's AVA (Advocacy for Victims of Abuse) Project.
Click here to give to the Colombia Hands with Hope project.
South Sudan Widows
Hope for Widows is a project of the Evangelical Covenant Church of South Sudan. Because of ongoing civil war
and the prevalence of HIV/AIDS, many women have become widows in South Sudan. This project will create sustainable livelihood development for thirty-two widows in southern Sudan and Ethiopia. The women will receive vocational training in tailoring, weaving, masonry, carpentry and pottery. They will also be encouraged to participate in micro-finance and micro-enterprise ventures so that they can begin to generate their own income. Through this project, vulnerable widows will be able to improve their standard of living and care for themselves and their children.
Click here to give to the Sudan Hope for Widows project.
As you celebrate Mother's Day this month, be sure to pray for vulnerable women, widows, and mothers around the world.