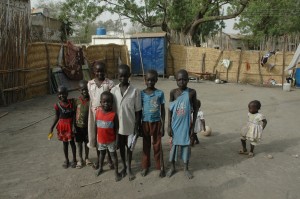 The Evangelical Covenant Church of South Sudan (ECCSS), one of our biggest partners, has a great project working with
vulnerable and orphaned children
(VOC) whose lives have been devastated by the HIV/AIDS epidemic in South Sudan. It is easy to see how the children need assistance – they are unable to provide for themselves and are either from single-parent homes or orphaned completely. When we look upon the faces of these adorable Sudanese children in terrible need, our hearts hurt, but we easily forget about the other people that are in need – guardians and parents whose spouses have died who are left to care for a number of children on their own. ECCSS has not forgotten them, though. One huge aspect of our VOC project is caring for the parents, as well. We are grateful for this holistic approach to ministry.
Parents and guardians whose children are a part of the VOC program have the opportunity to receive financial loans to pay for medical expenses for their children. They are also able to go through a vocation training
program to learn job skills such as tailoring, food processing, and weaving; this will eventually provide them with a source of income to care for their children on their own.
Our contact from ECCSS had the following to say about this wonderful project:
"The project is special because it targets the real people who are in a very desperate need in their respective communities. Since the beginning, the VOC project has no biases in its service deliveries regardless of people's background, culture, religion, tribe, ethnicities, gender, appearance, etc. Both the poor parents/guardians and the local communities in those respective areas of VOC-operations expressed their deepest gratitude to the CWR and ECC congregations in USA for supporting their needs which they have been lacking for several decades due to brutal war."
Please continue praying for our brothers and sisters in South Sudan. To give to this project, click here.