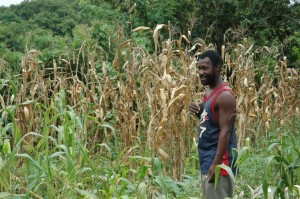 One of CWR's major goals is to go beyond disaster relief by working to transform communities after the initial effects of the disaster have passed. A great example of this is in Haiti.  More than a year and half after the earthquake struck Haiti, CWR remains there to continue the work of recovery and long-term development. We are doing this by partnering on many projects that offer ongoing relief, including working with Habitat for Humanity to build permanent shelters for Haitians who are still living in tents, Medical Teams International to offer ongoing medical support, and the Haiti Christian Development Fund (HCDF) to bring improved farming and agriculture.
We recently received an update from our partner HCDF who is heading up an agriculture project in Fond-des-Blancs, Haiti.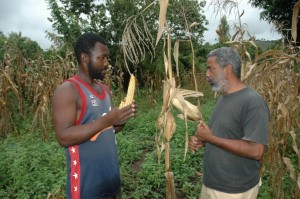 Due the great need for improved farming methods in Haiti, HCDF had no problem recruiting farmers to take part in the project. The recruiter from HCDF worked with the minister from a local church in Haiti to find farmers who wanted to participate; this partnership allowed for evangelistic ministry to take place with the participants. Forty-six farmers were recruited and provided with land and seed with the grant from CWR, and even more farmers are requesting to participate.
The participating farmers finished their first planting in May. In this cycle, the farmers planted corn and beans, which were harvested last month. HCDF just finished onsite visits of the participating farms, and they reported that the bean crop was small because the large amounts of rain that Haiti received destroyed parts of the crop; clearly, irrigation was not an issue as was originally feared. The corn crop, on the other hand, looks very good and was incredibly successful!
After the harvest at the end of July, the land was immediately prepared for the next round of farming. The second cycle of planting will again include beans, as August is much drier than May; sorghum will also be planted in September. This second round of crops, which will be harvested in November, keeps HCDF within their objective of doubling the participating farmers' harvest and revenue.
We are grateful for the great amount of interest and participation in this project (read more about the project on our website here).  Please continue praying for the country of Haiti as it journeys down this long road to recovery and transformation.