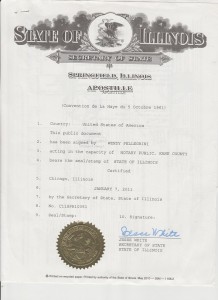 If you recognize the document pictured here, you are probably either a missionay or at least have lived internationally at some point.  This week we received some documents from the States with this form of legalization called an Apostille.  An apostille is basically a legal notarization that says that the document attached can be recognized internationally.  A normal notary is only good within the State that is notarized.  The apostille gives the document international notarization.
Back to the news… we received this week some paperwork from Rush University that explains what all Kim accomplished in her internship while at Rush.  We are hoping that providing this documentation will make it so that she doesn't have to do her one-year Rural (internship) here in Ecuador for her licensing.  We will see this next week when we go back to the Ministry of Health to see what they say.  Your continued prayers are appreciated!!!
Oh and Special Thanks to Eugenio and Pia Restrepo for all of their help in getting us these documents with all of the legalization!