During the holiday season we are filled with gratitude for all of the blessings God gives us. We thank him for our families, for abundant food, for health, and for so many other things. It is during this time that many of us also think about those who are poor and marginalized. Covenant World Relief receives the vast majority of our donations in November and December. We are extremely grateful for all who give so generously during this time so that the lives of the vulnerable can be transformed.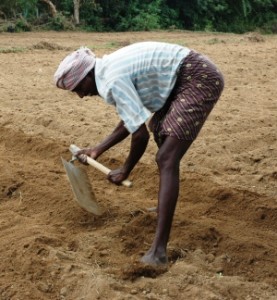 However, the reality is that hunger has no season. While traveling in remote rural areas of India recently, I met low caste and outcast people (Dalits) who struggle year-round just to survive. I met the man in this photo who hasn't been able adequately provide for the needs of his family. He is one of nearly one billion people in the world who live on less than one dollar a day. Now because of a small loan from a CWR-sponsored project, he was able to rent a small piece of property and grow peanuts. With this cash crop he will be able to buy food for his family and continue to farm the land.
Covenant World Relief responds to disasters and supports long-term community development projects among the most vulnerable all year long. Would you consider giving to CWR monthly to help us in these vital lifesaving and life-changing ministries? Please consider using the automatic giving form enclosed in this mailing or online at covchurch.org/cwr.
—Dave Husby (feature article from our Winter 2012 CWR Update. Read the entire update here.)