We recently received an update from the Covenant Church of South Sudan (ECCSS), who is working with us to end the extreme violence in South Sudan. This violence, which began in August of last year, is caused by those in the North attempting to destabilize this new nation, as well as competition for limited resources due to extreme poverty. The violence is affecting four villages in the Jonglei State of South Sudan.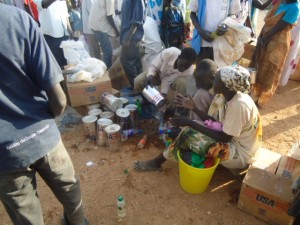 According to the state government, 640 people have been killed, 860 have been severely injured, over 200 children have been kidnapped, and over 38,000 herds of cattle have been stolen. Clearly, these violent attacks have been devastating on the community.
The ECCSS has stepped in and helped 38 families who have been affected by the violence. They are providing these families with bags of maize, flour, oil, mosquito nets, water, and bush-clearing tools. With the help of CWR funding, these important materials have saved lives and supported families through this difficult time.
Please continue praying for the people of South Sudan.