If you give a woman a dollar, she invests it in her family. That's exactly what is happening through Fuentes Libres (FL), one of our new projects this year. Fuentes Libres is a Christian, nonprofit organization located in Oaxaca, Mexico.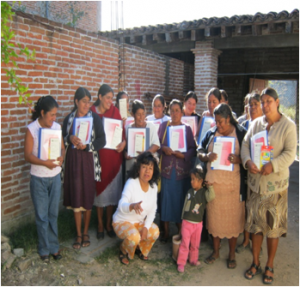 The primary goal of Fuentes Libres is three-fold: promote income-generation, improve the living conditions of impoverished families, and instill and strengthen Christian values in individuals and families. These goals are achieved by forming savings and loans groups of 12-20 women, providing microloans, implementing a savings system, and encouraging participation in bible studies.
FL may sound familiar for a couple of reasons: it was one of the projects we raised money for at the Walk for Economic Empowerment in October, and our director, Dave Husby, was there last week visiting the project. He describes the work of Fuentes Libres as a ministry that "operates 30 women's community banks with 400 members. The women receive loans to operate small businesses which include the selling of clothes, shoes and cosmetics. Some make and sell tostadas, tortillas, pastries, and cakes. One woman has a flourishing piñata business. The women gather weekly to make loan repayments, contribute to savings and learn biblical principles of finance." He also comments, "It is wonderful to see women being empowered and transformed."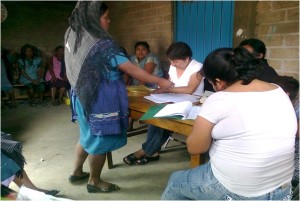 We recently received an update this month from Fuentes Libres with the exciting news that they were able to open a new community bank that, within the first few months, had 12 women participating in a savings group. Soon, these women will receive small loans in addition to what they have saved which they can use to start small businesses.
Check out Dave's photo album on facebook for more recent photos of the work of Fuentes Libres.