Following large-scale disasters, Covenant World Relief partners with affected areas to bring relief in a two-step process: immediate relief that provides the necessities to live, such as food, medical care, shelter, and clothing, followed by a period of long-term recovery that helps to restore normal living as well as transform the community to lessen and even prevent the terrifying effects of future disasters.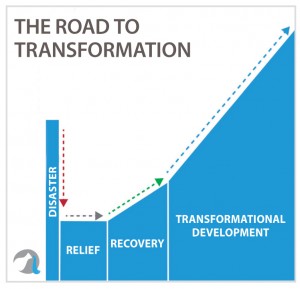 This process has certainly been evident in Monterrey, Mexico, following the massive destruction and extreme flooding following Hurricane Alex in the summer of 2010. CWR partnered with a non-profit called The Family Development Foundation (FDF), which is connected to the Evangelical Covenant Church of Mexico.  FDF is a trusted partner in Mexico that has been working in Monterrey since 1999.
CWR and FDF began the process of relief, restoration, and transformation by first offering immediate emergency relief to those affected by Hurricane Alex and the severe flooding that followed.  This consisted of providing food and safe drinking water.  Those affected by the disaster were welcomed to a local church's soup kitchen to receive food and water, and were then given a significant package of food and water assembled by FDF to take with them.  Nearly 100 families were served by the first phase of this relief project!
The second phase of this disaster relief project, which has taken much longer but provides lasting change, involved the rebuilding and repairing of homes destroyed by the storm.  It is in this process that the real work of CWR is seen, as we partner with local people to transform the community.   By partnering with both FDF and Habitat for Humanity, CWR was able to provide 20 families with the needed materials to begin rebuilding their homes: 230 concrete blocks, 4 sacks of cement, 7 sheets of metal laminate, and 4 wooden support beams.  However, these materials were often not enough to completely repair or rebuild a home, so families worked together to find and buy more supplies.  The community worked as a whole to get the materials to the necessary locations and to put their homes back together.
This project is a great example of the work of CWR, as the city of Monterrey was shown the compassionate love of Christ as it was transformed into a healthier, more whole community.
–By Kellynne Meyers, donor care coordinator for CWR