Here is an update from World Relief, our partner in Haiti.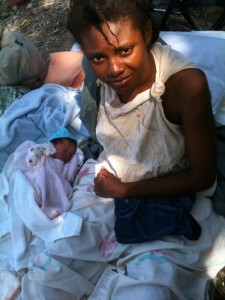 Haiti's local churches are filling people with hope in the face of one of the world's most cataclysmic disasters in decades.
On Wednesday, World Relief acquired rice to feed approximately 120,000 people, in partnership with the World Food Program.
Local pastors say the feeding program is a lifeline for their churches and their communities struggling to get back to normal after the disaster.
"World Relief exists for the local church," says World Relief's Stephan Bauman at the quake zone.  "Our goal is to see the needs through the eyes of the local church pastors so that we can really understand what they are facing."
Meanwhile, stories of hope continue to emerge.
Expecting a child at any moment, Tamara was trapped under the rubble after a building collapsed on her, crushing her legs.  Miraculously, she survived and managed to get to Kings Hospital.  Just hours after the quake, she gave birth to a baby whom she named Jesula – meaning "Jesus is here."
This week, World Relief started assessments in local tent cities that are cropping up throughout Port-au-Prince as thousands of homeless people erect their own shelters out of sticks, cloth and tarp.
World Relief is also distributing water to the most vulnerable survivors and drilling bore holes to supply water at King's Hospital and a local orphanage.