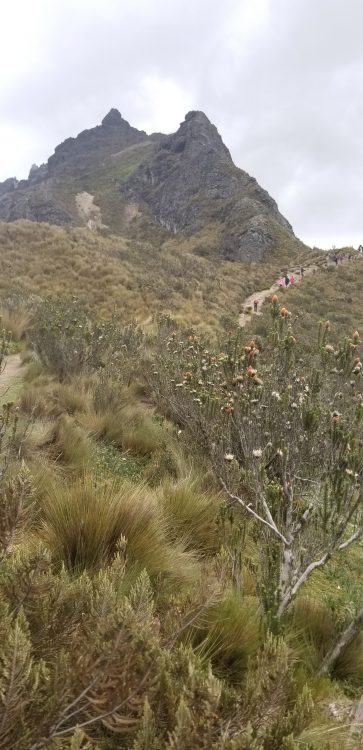 This past weekend, Joel and I took a much needed weekend away to rest, reconnect and…climb a volcano.  Yes, you read that correctly, we climbed Rucu Pinchincha which is an active volcano.  If you have been to Quito to visit, you have likely taken the Teleferico, or cable car to the top of Pinchincha to see the amazing views of Quito and beyond.  We have lived here for almost 8 years now and have yet to climb the rest of Pinchinca which is well over 15,000 feet, which is 2,000+ feet past the teleferico.
As we began to hike past what was known to us from our many, MANY visits to the teleferico with friends, family and teams, I began to focus on one thing, breath.  The whole hike, this is what I went back to.  Now I am not trying to over-dramatisize or even over spiritualize this whole experience, but in the midst of a challenge (at least for me) such as this, the basics is what seems to come in to focus and this is exactly what happened to me.  On a normal day at the teleferico, breath is something you focus on, but as you hike further and further up the path, you are forced to focus on what gives you life and that is breath.  The altitude forces this and for me, this was what I needed.  With all of the different things that seem to steal my attention and focus, this time brought me back to the basics of what is needed for life, breath.  As we continued to hike, I continued to think of breath, in Genesis 1 when the spirit was hovering, when God breathed life in to humanity, God breathing His breath in to His disciples.  All of these examples bringing us back to the basics of scripture.  We continued to hike higher and I wondered how life can survive here.  I took a minute to look around and see LIFE.  Plants, flowers, butterflies were all around and the wind and breeze was stimulating life around us.  All of this, new beginning.  We continued to hike and then we came to an area of the hike where we had to cross an area of unknown.
Then, while continuing to feel myself breathing, I felt my heart race and fear took over.  I didn't know what to do.  What was in front of me was unknown and I didn't know how to get there and what was below me was too scary to look at or think about.  I couldn't go back and I didn't know how to go forward.  How do you conquer fear like that?  I just closed my eyes and the fear overwhelmed me.  Joel helped guide me, where to put my feet, where to put my hands, and we made it across the unknown.  We contemplated going back because if weather came in, this area would be really risky and with what I had just experienced, I couldn't imagine it being riskier.  But we kept going at the encouragement of a guide that had come up behind us with hikers.  Thank God for her and her teammate who guided us through another hairy area.  Very similarly fear overtook me, in ways I hadn't really experienced before.  I just kept saying I didn't want to do this.  But the guide encouraged me, told me where to put my hands and where to step next.  Secure hands, secure feet he kept saying.  Each time I wanted to turn back, these two guides kept encouraging us to go on.  As we climbed to the sand (I had read it was only 20 more minutes from here), I was once again overtaken by fear that I didn't understand.  Fear of falling, fear of the unknown..I went back to the two things I need for life at this point, breathing and my heart.  I felt my heart continue to pound and I heard my breath.  We continued to climb.  It started to get foggy as we were climbing toward the summit.  I kept telling myself not to continue, "you're fine, look how far you made it, what an accomplishment", but the guide kept saying, just a little bit more.  We began to get to jagged rocks that you climb to get to the summit.  The fear set in again and I said to Joel I just want to go back.  But I didn't know how to go down and it would have been risky to even try it at that point, so we kept going.  I finally, FINALLY climbed the last rock to make it to the top and I just sat down and cried, but the crying turned in to hyperventilating as the altitude is something I have't experienced in quite that way before.  I went back to breathing, calming myself, telling myself I was OK, I was OK.
I am glad I did it, I am glad I made it down.  In all we hiked 25,000 steps from my FitBit, 200 floors, 2,000+ feet and lived to tell about it.
The last couple of days have been a reminder of the experience as my leg muscles hurt, even my chest hurts, but it has been a reminder of breath, of life, of continuing on, of conquering, of knowing limits and going beyond what you think you can do.  It goes back to basics, breath, God-given, our life, God-breathed.  May you LIVE in that today.