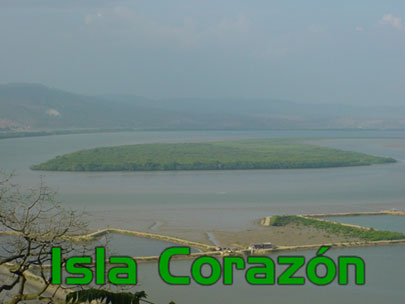 If you read our last blog post you know we visited Isla Corazon (Heart Island) in the Bahia of Caraquez in the west side of Ecuador.  Visiting this island was our best experience yet here in Ecuador and we have had a lot great experiences.  It is basically an island of Mangroves.  Mangroves are the type of tree in which the roots are above ground and you can see them spread out.  We had the opportunity to get a tour of the island taking a canoe trip through the Mangroves.  It was awesome!  Isla Corazon is also the area of the largest population of frigate birds in the western coast of South America.
It was really an awesome experience.  I describe it as going to the zoo and seeing exotic animals, but not actually being at a zoo and it actually being real life.  Some of the highlights were seeing tiny crabs crawl up the Mangrove roots out of the water and looking like giant spiders.  Also, seeing the White Ibis with it's long beak trying to get the crabs out of their holes with it.  Also, seeing the red-bellied frigates also was really, really neat.
The coolest part of this whole thing was learning about how the island is being maintained.  Basically, the local fishermen in the area have formed an organization for the promotion and sustenance of the Mangroves and the Island.  They don't really get a lot of government sponsoring; most of the funds come from folks like ourselves that come for a visit.  It's just so neat to see a grassroots movement like this of people who live off of the land organizing and working in this kind of way to sustain the environment.  If that's not being good stewards of God's creation, I don't know what is.
Here is the website that tells about the island and the organization.  If you are ever in Ecuador, you should definitely visit.