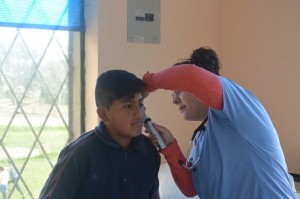 I knew at the age of 10 years old that I wanted to be a medical missionary after visiting Kenya, Africa and being exposed to medical missionaries.  From that early age, I wanted to help people-to work with Jesus to heal.  This has been a dream for SO many years, and this past week, it became a reality.
After a medical/dental team came down to work in the clinic in Cayambe a few weeks ago, Pastor Jose and I talked about why I wasn't seeing patients in the clinic.  I didn't think I COULD see patients in the clinic.  He seemed to think that it wouldn't be a problem for me to see the kids in the Compassion Center.  I starting wondering too why we hadn't thought about this.  We talked through it together with others, reviewed what Compassion International expects, talked to a doctor here in Ecuador to see his thoughts. After all of this, it seemed clear that it would be OK for me to practice, seeing only internally within the Compassion International center and its children.  So, last Wednesday was my first week in the clinic seeing patients, by myself!   It was quite a busy time that I didn't take a whole lot of time to reflect on just how big of a day this really was in my life.  But, thinking and reflecting, I was reminded of Phillipians 1:6:
…being confident of this, that he who began a good work in you will carry it on to completion until the day of Christ Jesus.
God placed a call on my life SO many years ago and it is Him who has been with me through the years to bring me to this point.  However, it is an interesting feeling to think that THIS IS JUST THE BEGINNING!  God has so much more to do and I am excited to be along for the ride.  I am excited and humbled that He would choose me for this BIG task.  It seems pretty overwhelming sometimes.  However, God has brought me this far, keeping the call He has placed close to my heart and I know He is here through it all.  On those days I doubt I can do it, the days long ago when I didn't know if I would make it through tough graduate school classes, the days raising support, the days of waiting, waiting, waiting.  All of it has lead to this!  Is it worth it?  Absolutely!
So, today I take a minute to reflect.  Reflect on God's mercy and grace.  To be thankful for the YEARS it took to get us to this point.  I am SO thankful for the journey which seemed to take a lot longer than we expected, but realize that it has been God's PERFECT timing.  Thanks be to God for not giving up on His and for beginning His work in me so many years ago.  Thanks be to God!