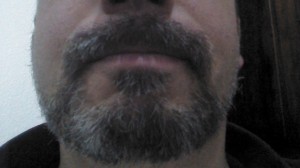 I have received some questions as to what's up with the beard.  For many of you who have known me for a long time, seeing me with a beard is a bit surprising.  I've pretty much never had one before besides one summer when I was taking Intensive ("Suicide") Greek.  Well, the reality is that I've never liked facial hair and still don't for that matter… even currently at this very moment!  So.. the natural question is…. why do you have a beard???  Well, the answer isn't quite as trite and simple as you might expect.  Here goes nothing…
I just wanted to share, be a little bit vulnerable, for the purpose of knowing that it is best to share with those who support you and pray for you in ministry so they know how you are REALLY DOING!!!  You know that I am not really a person that likes to talk about himself, but I feel like I need to share for the purposes of being transparent with those who are praying for me and my family and are there to support us in ministry and in life.
Please bear with me as I share a little bit of detail of my life over the last few years….
Our time of Home Assignment was a real struggle for me… not only for the obvious reason that I/we are away from Ecuador, our country of service. But more than that because it was extremely, extremely stressful in putting together all of that support we needed to.  In addition to doing all of that support raising which was very difficult and stressful (though there were many times of joys and blessings as well), I was also the main caretaker for Simeon since Kim was working full-time, so you can imagine a job where you work from home and also try to take care of an extremely active 3 year old who doesn't like to play by himself at all, I might add.
Then, of course, after we finally reached 100% and received our approval in early December of last year, it just has seemed like we have had one thing after another as far as problems go, all the way up to the day we left (and hasn't seemed like it has changed much since we got here!).  It was so much that way that we actually made the decision to move to Ecuador the day before we flew out.  So, it was definitely a lot of stress and difficulty that we experienced in the months leading up.  The biggest of these, as you know, was everything that was going on with my mom.  Not only was it difficult to find out that your mom is now fighting for her life but it was also a lot of stress and difficulty in taking her to appointments in Chicago and corresponding with many different doctors all around the country in searching for answers.  The other thing that was extremely stressful and difficult was planning out and then having our container cancelled.  Of which, we have a lot of stuff on that we have been waiting to get.
So, all of this stress, took a toll on me.  I put on weight (I'm about 15 lbs heavier than I was we first got back from Ecuador), my blood pressure rose, and my migraine headaches hit an all time high… I was having one every day in which the medication I always took was only deadening the pain and not getting rid of it.  I was having trouble sleeping… probably averaging about 5 hours a night and often woke up in the middle of the morning with a migraine.
And here's the part where I am being really transparent….
I know all of this is ALL MY FAULT.  (Well… ok… maybe not ALL of it, but MOST of it.)  You see… I'm a work-a-holic.  (I feel like I should be standing up front at an AA meeting…. "Hello.  My name is Joel Delp and I am a work-a-holic").  And I put a lot of stress on myself to be productive in ministry/work.  To explain, I was raised by two Mennonite folks who both grew up on farms and that only have known how to work hard and take care of the tasks on hand for the day, so I know a lot of what burdens me is brought on by myself.  I understand that.  This isn't a new problem.  Kim and I have known this since before we got married and she has been a wonderfully supportive partner for me that has brought accountability and balance to our marriage in addition to her unending love and support.
But we have just gone through an extremely busy and stressful time which was preceded by a difficult and stressful short-term as missionaries (though you also know it was a time of many joys!) that was still preceded by about 5 years (finishing up seminary and serving as a pastor etc while Kim was working full-time and doing her Masters) of a time that was very similar.
What I am saying is that I have had enough… It's time to make changes in my life and for our marriage and family that will better sustain us over the long run of ministry and life.  We just need to setup patterns in our lives, and my life specifically, that will provide a better balance of ministry and family/health.  In addition to having such a strong focus on ministry, I need to balance things out better with taking care of myself and my family.  Specifically, I need to focus on being a better husband and father, my health (eating, exercise, etc), spending more time dedicated to God, and having down time with my family and friends.
After Kim and I get through this  busy time of transitioning to Ecuador and getting our project going, we are planning working together to put together a life plan to do just this.  And I will be making a commitment to myself to do things different. All of these kinds of commitments will hopefully put us in a better place to be sustained over the long run of a life of ministry.  We don't want to get burnt out.. I was feeling like I wasn't going to make it to the age of 40 there for a while!!!  We want to be happy and content in ministry and not feel like it is a burden that God has called us to.
So, that is why I have the beard.  I told myself that as a way of holding myself accountable to getting this plan in place of creating a new me, I would grow a beard in order to have a daily reminder that I need to do better.  So, it's Joel's form of a goofy penance that I am forced to remind myself of each and every day when I look in the mirror.
Once I get myself in a more healthy state, I will shave my beard again.  So, you can watch for pictures of a beardless Joel and rejoice with me when that day comes!
Well, if you made it through this lengthy explanation of why Joel has a beard, you are truly a dedicated supporter and friend!  And I'd ask for you to continue your prayer support as I venture down this road of making a new me for the good of my family, our ministry and my health.