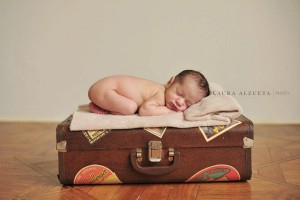 This picture may accurately depict what could be our lives here very soon.
Today, we are flying back to Quito to move into our new apartment and adjust back to life in Ecuador again.  We had been planning that once we get back we can have a little bit of time to unpack our stuff (nothing is unpacked in our new apartment yet), make some last minute purchases for the apartment (curtains anyone???) and take care of some last minute details that are needed like Joel heading out to Guayaquil to turn in our paperwork needed for the container.  That's what we HAD been planning.
Yesterday, we had our final appointment with our doctor in Indiana to get the approval to head to Ecuador today.  Everything went well with that.  But he also informed us of something that we weren't planning.  He said that usually in their practice when it is a planned C-Section (what we are having), they usually plan it for the beginning of the 39th week.  The beginning of the 39th week is in 4 days… 4 DAYS!!!!  Holy canoli!!!  4 DAYS!!!  We had been thinking more along the lines of our due date which is June 15th, so this has been a bit of a surprise.
Now, we need to actually meet with our Ecuadorian doctor on Monday as planned but it is obvious that our lives are just about to be rocked by a new little bundle of joy much sooner than we thought.  Your prayers are appreciated today as we travel, as we arrive and get ready very quickly and as the new little one joins the family for mom and him/her.