I, Kim, am currently reading this book, Sitting at the feet of Rabbi Jesus, How the Jewishness of Jesus can Tranform your Faith.  This book was actually recommended to me by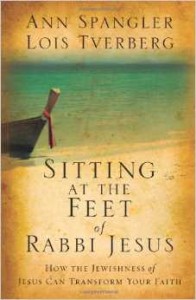 Joel's mom, Ruthie.  When she was reading this book, she talked to me about the woman who was healed just by touching the hem of His garment.  This was just about the time she found out she was diagnosed with recurrent cancer and this was so significant for her.  In the book it says
"The hem would have signified Jesus' identity and authority.  What's more, the place where the tassels were attached would have been considered that holiest part of His garment.  So it seems likely that the woman knew exactly what she was reaching for.  Jesus' purity was so great that instead of becoming defiled by her touch, it healed her impurity.  What a beautiful picture of the power of Christ's holiness to heal and to bless."
We pray that God will heal Ruthie, because we know He can.  Healing comes in many ways, but as I read through this section of the book about healing, I was so humbled by the faith Ruthie had to be healed by her Savior.  May we all have this faith as we pray for her healing.  There is a prayer that Ruthie prayed with this called the Amidah.  It is a central prayer of Jewish liturgy for well over 2,000 years.
THE AMIDAH

1. THE GOD OF HISTORY:

Blessed are you, O Lord our God and God of our fathers, the God of Abraham, the God of Isaac and the God of Jacob, the great, mighty and revered God, the Most High God who bestows loving kindnesses, the creator of all things, who remembers the good deeds of the patriarchs and in love will bring a redeemer to their children's children for his name's sake. O king, helper, savior and shield. Blessed are you, O Lord, the shield of Abraham.


2. THE GOD OF NATURE:

You, O Lord, are mighty forever, you revive the
dead, you have the power to save. [From the end of Sukkot until the eve
of Passover, insert: You cause the wind to blow and the rain to fall.]
You sustain the living with lovingkindness, you revive the dead with great
mercy, you support the falling, heal the sick, set free the bound and keep
faith with those who sleep in the dust. Who is like you, O doer of mighty
acts? Who resembles you, a king who puts to death and restores to life,
and causes salvation to flourish? And you are certain to revive the dead.
Blessed are you, O Lord, who revives the dead.