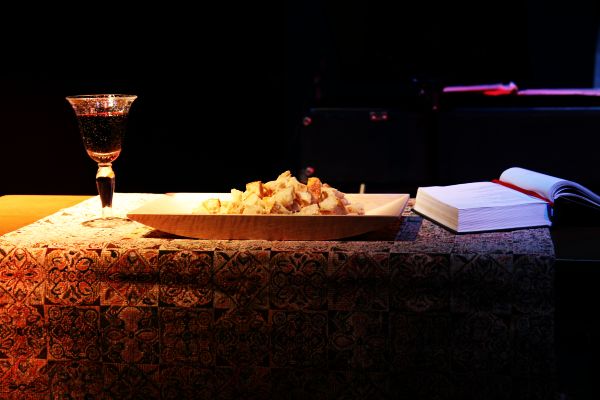 I (Joel) had the opportunity to preach and lead communion this past Sunday at the Evangelical Covenant Church in Donaldson, IN.  It was a lot of fun!  I hadn't had the opportunity to lead communion for quite some time so it was nice.  In planning and leading communion, I was able to review the Communion Liturgy that is in the Covenant Book of Worship.  I really appreciate it and was refreshed by going over it and leading a community of faith in it this past Sunday.
So much of what our world tells us these days is that we have to be perfect.  We have to have it all together.   We have to look perfect, we act perfect, we have to have the perfect job, the perfect spouse, the perfect kids and we have to do all the right things.  This kind of cultural problem invades the church also when we feel like we always need to have a smile on our face and look like we've got everything under control.
Now, please know that I am not trying to make a criticism here.  It's just a reality of the world today.
Enter, the table.  The grace that is bestowed upon us from Jesus Christ though the sacrament of communion is like nothing else.  We don't have to come to the table with things all in order.  We don't have to have it all together.  We don't have to be perfect.
Here's the liturgy that I used this past Sunday for communion taken from the Covenant Book of Worship:
It is now our sacred privilege to celebrate the sacrament of the Lord's Supper.  All who humbly put their trust in Christ and desire His help that they may lead a holy life; all that are truly penitent for their sins and would be delivered from them; all that walk in love with their neighbors and intend to live a new life, following the commandments of God and walking from henceforth in His holy ways, are invited to draw near with faith and to take this holy sacrament. 
Come to the table, not because you must, but because you may.  Come to testify, not that you are righteous, but that you sincerely love our Lord Jesus Christ and desire to be his true disciple.  Come not because you are strong, but because you are weak and that you stand in constant need of God's mercy and help.  Come not to express an opinion, but to seek God's presence and pray for the Spirit.